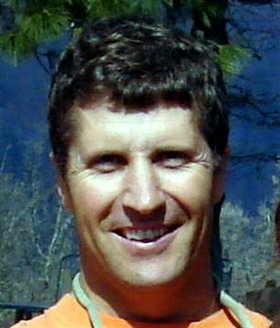 Tod Jay LeFevre
September 4, 1964 - March 7, 2011
Tod Jay LeFevre, born Sept. 4, 1964, native son of Gunnison Colo., and longtime resident of Hood River, Ore., passed away on March 7, 2011, when his long struggle with pulmonary fibrosis ended before donor lungs could be found.
A list of Tod's accomplishments in life reads like the script of the movie "Forrest Gump" - if we all hadn't witnessed it, we wouldn't have believed it.
Elbow-touching slalom water skier, trophy-winning motocross racer, class president, homecoming king, collegiate ski racer, Colorado School of Mines graduate, introducer of the cruiser bike to Boulder, Colo., climber of every Colorado 14'er, world-class kayaker, mountain biking pioneer, ultra-marathon runner, deep underground mine engineer, EMT, explosives expert, ski patrolman, Alaskan bush pilot/hunting/skiing guide, Caribbean sailboat captain, intimidating naked volleyball spiker, award-winning off-grid strawbale and sustainable home builder, renewable energy educator and business owner, kite boarder, world-class friend, husband and father.
He was taught well by his parents, Frank and Roxana LeFevre, of Gunnison, Colo., and lived by his father's mantras: "Never put off until tomorrow what you can do today; If you feel sorry for yourself, do something for someone else; and Where there is a will there is a way!" Timeless advice, but very powerful if uncompromisingly used to live life to the fullest like Tod.
Despite all of these talents, Tod's greatest quality was his humble and selfless nature. He never bragged about what he'd done, and had an amazing way of deflecting attention from him and focusing on what you could accomplish. He relished in the opportunity to scare you spit-less by introducing you to his life's passions; whether or not they were even in the neighborhood of your personal comfort zone!
The unique thing about Tod is that he didn't do this to show off his own abilities or because of a lack of compassion for those less competent. Tod did this because he didn't see limits. He didn't place barriers on what he could do, and he BELIEVED in you and your ability to do the same.
He didn't ask if you thought you could, or if you were afraid, or even if you wanted to go forward. He just led the way, showed you what was possible, and had 100 percent confidence that you were up to the task at hand. This is just one example of why spending time with Tod left you with a deep resolve to be a better person and live more fully.
Tod was born in Gunnison, Colo., and had an adventurous youth growing up with his brother, Scott, of Crested Butte, Colo., and a host of amazingly energetic friends that this Colorado mountain town has a special talent for creating. Frank was a retired Marine jet pilot, charter mountain pilot, mechanic and flight instructor at the Gunnison County Airport and the LeFevre family owned and operated the Elk Creek and Lake Fork Marinas on Blue Mesa reservoir.
Working at the marina while growing up gave Tod endless opportunities to learn how to work hard, water ski, sail and laid the foundation for a lifetime of pressing the limits of every new water sport he encountered.
The winters, of course, were all about skiing. He won many competitions at Cranor Ski Hill, which his father helped build and develop. He loved jumping the most. Give Tod a set of long boards and an afternoon launching "Big Woody" at Cranor Hill and he was a happy guy. He and his buddies' favorite jump was the Zudnik. They could be seen doing the "Flying Zudnik" wearing their Inca warrior hats off the Twister Chair catwalks at the Crested Butte ski area every weekend.
As a fifth-generation Gunnison/Lake City, Colo., native, Tod graduated from Gunnison High School with the Class of 1983. He furthered his education at the Colorado School of Mines, graduating in 1988 with a degree in geological/environmental engineering. Tod spent the next several years working in both underground and open pit mines, including the largest and deepest underground gold mine in North America in Lead, S.D.
When his "real job" slowed him from doing his love of mountain climbing and skiing, he switched gears and spent the next number of years climbing unnamed peaks, making first ascents and attempted to be the first climber to summit the three intimidating peaks of mounts Denali, Foraker and Hunter in a single climbing season.
It was then time to go back home to spend time with his aging parents. Becoming a ski patrolman, wilderness EMT and avalanche and snow safety expert allowed him to live and work once again in the Gunnison Valley, where he was reacquainted with longtime family friend Marti Poseley during the "big snow" winter of 1992-93 in Crested Butte.
Shortly thereafter Tod and Marti moved to Nucla, Colo., to start a life together recreating in the local mountains and rivers while building their dream off-grid strawbale house over the next six years with the help of family and friends, new and old. Tod's ingenuity was exemplified when he decided to grow and bale the straw for their house on the reclaimed land while working as a reclamation engineer at the local open-pit coal mine.
The onset of his lung disease forced him and Marti to find a place to live at sea level. Their next adventure took them on a two-year stint to St. Vincent and the Grenadines in the West Indies of the Caribbean where sailing and exploring the islands was the activity of choice. It was there that their son, Cassell, was born and Tod began the leg of his life journey that brought him the most joy; Fatherhood.
Knowing that they wanted to be closer to family, they conducted a typically fun-filled and adventurous search of a myriad of seaside locales before settling in Hood River, Ore.
Tod spent many years as a respected civil engineer with Skamania County, Wash., while simultaneously pursuing his passion for sustainable living and eventually supporting his family full-time with his solar engineering and installation firm, Common Energy, in Hood River.
His health condition changed what he did for fun, but it never changed how he approached his day. Every day he woke up with a long list of things to do, things to learn and places to visit. He was a very involved community member volunteering on various environmental boards and teaching renewable energy classes, and tried his best to live a life congruent to the lessons that he taught.
Tod was a man of many talents, to say the least. He lived large and laughed a lot. He was an inspiration, and his entire broad palette of talents was on full display when you saw how enthusiastically he embraced his role as Super Dad for his beautiful children, Cassell, 9, and Sutton Bell, 5.
Tod was extremely grateful and blessed to have found a true-life companion in his smart, funny, energetic and beautiful wife, Marti. Marti shared and contributed to Tod's dreams, supported and lived his adventures and was a model for how a spouse should support their partner during life's most difficult trials.
Celebration services for Tod will be held in Hood River on April 30 and in Capital City, Colo. (near Lake City) on Aug. 1. More detailed information will be forthcoming.
It is impossible to sum up Tod's life in such a short venue. So it seems fitting to end this with how Tod always signed his letters and how he always parted with us:
"Happy Trails and Have a Good Day!"