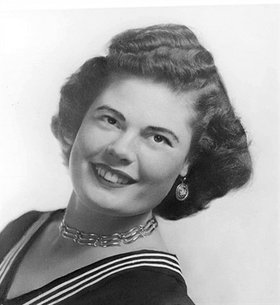 Nina "Louise" Slobig
July 13, 1931 - February 20, 2011
Nina "Louise" Slobig, 79, a longtime resident of the Aloha community, died Sunday morning, Feb. 20, 2011, at The Pearl at Kruse Way, a senior center in Lake Oswego, Ore.
A Celebration of Life service will be held on Saturday, March 26, at 11 a.m. at the Fuiten, Rose & Hoyt Funeral Home, 2308 Pacific Ave. in Forest Grove, Ore., with the Rev. Richard E. Osburn, retired United Church of Christ minister, officiating.
Family and friends are invited to attend a reception immediately following the chapel service, to be held in the fellowship room of the funeral home.
Burial rites and interment will follow at 3 p.m. at the Idlewilde Cemetery, 980 Tucker Road in Hood River, Ore., with Bob Huskey officiating.
Nina was born July 13, 1931, in Kendall, Kansas, the daughter of the late Floyd Winfield Oyster Sr. and Florence Bessie (Marietta) Oyster. As a young child she moved with her family to Oregon, settling in the Dufur community in 1937, where she attended first through third grades.
In 1941, they moved to Mosier, Ore., where she completed her education, having been a graduate of Mosier High School Class of 1949.
She joined the union to pack fruit at the cannery off and on from 1947 to 1961. Louise then moved to North Richmond, Wash., at work at Hanford in the secretarial pool. It was there that she met Robert Conklin Slobig, who was serving in the United States Army.
Louise was united in marriage to Robert "Bob" Slobig on Oct. 25, 1954, at Coeur d'Alene, Idaho. They welcomed their first daughter, Bonnie Louise Slobig, into the family on April 16, 1955, and said farewell on April 28, 1955, when she passed away. She was laid to rest in The Dalles, Ore.
Bob was transferred to Ulm, Germany, and Louise followed. They traveled Germany on weekends and returned to the U.S. in August 1956 via ship across the Atlantic to New York. There they purchased a car and drove to their next station in Colorado in 1956.
Louise returned to Oregon to be closer to family and work while welcoming their second child, Marietta, into the family. Louise worked for John Pleskac as a housekeeper and raised Marietta, with his children David, Dawn and Rick until 1961.
She then went with Bob to work on a ranch in Roosevelt, Wash., for the summer and returned to Beaverton to begin working at Tektronix Inc., where she enjoyed a very long career in the components division, retiring in 1983.
She was a charter member of the B's and B's Square Dance Club. Louise had a long relationship with Walter Wahlberg, her dancing partner from 1962 to 1974.
On Aug. 30, 1974, she married Charles Aubry Ingram in Reno, Nev. They later divorced.
Louise then married Gerald D. White on May 17, 1985, at Coeur d'Alene, Idaho. Following their marriage, they made their home in Aloha. He preceded her in death, on May 25, 1988, in Tillamook, after celebrating three years of marriage together.
Among her special interests were sewing, knitting, crocheting, tole painting, gardening and especially collecting owls. Louise had a special love for her family life, especially her children and grandchildren.
Louise was also preceded in death by her parents, Floyd and Florence Oyster; her daughter, Bonnie Louise Slobig; and her brother, Everett Gale Oyster, in 1935.
Survivors include her daughter, Marietta (Slobig) Doney, of Portland, Ore.; and her three brothers, Floyd Winfield Oyster Jr., of Albany, Ore., Omer Laverne Oyster, of Coquille, Ore., and Wayne Eldon Oyster, of Redmond, Ore.
Also surviving are her two grandchildren, Nina "Colette" (Doney) Neva, of Beaverton, Ore.; and Jason Andrew Doney, currently serving in the United States Coast Guard, stationed at ESD Miami, Fla.; two great-grandchildren, Austin L. Neva and Devlynne L. Neva; and her 10 nieces and nephews.
The family suggests that remembrances may be contributions to Oregon Public Broadcasting, 7140 S.W. Macadam Ave., Portland, OR 97219-3099; or to the American Heart Association, Oregon Affiliate, 1200 N.W. Naito Parkway, Ste. 220, Portland, OR 97209; or to the American Lung Assoc. of Oregon, 7420 S.W. Bridgeport Road, Ste. 200, Tualatin, OR 97224-7711.
Viewing (visitation) hours are Friday, March 25, 9 a.m. to 7 p.m., Saturday, March 26, 9-10 a.m. at the Fuiten, Rose & Hoyt Funeral Home in Forest Grove, Ore.; 503-357-2161.
To sign the online guest book or to send a condolence to the family go to www.fuitenrosehoyt.com.
Fuiten, Rose & Hoyt Funeral Home in Forest Grove is in charge of the arrangements.