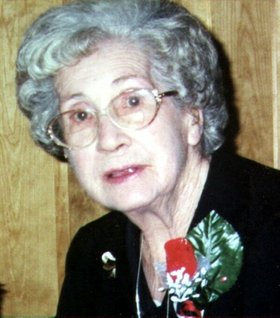 Fyrn Lucille Pyle
March 7, 1919 - May 13, 2011
Fyrn Lucille Pyle was born at Avery, Mo., on March 7, 1919, to parents Robert and Mona Miller.
She died on Friday, May 13, 2011, at the Regency Hermiston Nursing and Rehabilitation Center in Hermiston, Ore., at the age of 92 years.
Lucille was a longtime resident (over 40 years) of Hood River, Ore. She has lived in Hermiston the past 12 years.
She was preceded in death by her husband, Leslie Harold Pyle, in 2004; and a son, Willard Pyle.
Lucille is survived by three daughters: Mavis Prinzing, of Hood River, and Wanda Rossi and Martha Tennant, both of Hermiston; and son Dennis Pyle, of Portland, Ore. Also surviving are 14 grandchildren, 24 great-grandchildren and14 great-great-grandchildren.
A graveside service was held on Tuesday, May 17, at 1 p.m. at the Idlewilde Cemetery in Hood River, Ore.
Please sign the condolence book at www.burnsmortuaryhermiston.com.
Burns Mortuary of Hermiston is in care of arrangements.