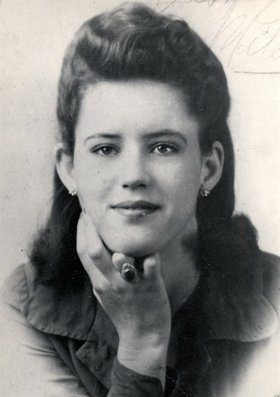 Laura Jean Bisbee
October 15, 1927 - May 11, 2011
Laura Jean Bisbee died in The Dalles, Ore., on May 11, 2011.
She was born on Oct. 15, 1927, in Idabelle, Okla., to John and Myrtle Ann Mitchell.
Laura Jean Mitchell was born on the Oklahoma-Texas border during the Dust Bowl years, and spent her early childhood dodging rattlesnakes and tornadoes.
She arrived in Portland, Ore., in 1942 and worked as a welder in the Henry J. Kaiser shipyards and was known for racing on the Vanport Raceway. She married Jack Collins Sr. and moved to Hood River valley working in the fruit industry. In 1961 she married Ben E. Bisbee and assisted with the family farm in Odell.
Later she moved to The Dalles to care for her aging mother and eventually provided in-home care for many seniors. She had a natural green-thumb, cared for animals of all kinds and was proud of her Cherokee heritage.
She is survived by her daughter, Sally Vencill, of Philomath, Ore.; son Jack R. Collins Jr., of Hood River, son Ben J. Bisbee, of Hood River, daughter Laura E. Bisbee, of Parkdale, and son Brian E. Bisbee, of Hood River; 15 grandchildren and three great-grandchildren.
In lieu of flowers, donations may be made to The Dalles or West Side fire departments.
A memorial service will take place at 1 p.m. May 20 at Pine Grove Butte Cemetery, Van Horn Drive in Pine Grove. Interment will follow the service.
Arrangements were handled by Spencer, Libby and Powell Funeral Home, The Dalles.