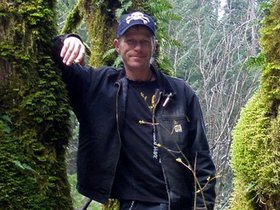 Ronald G. Dexter
January 11, 1970 - May 15, 2011
Born Jan. 11, 1970, at Ft. Benning, Ga., Ronald G. Dexter died May 15, 2011, in Parkdale, Ore., just less than a mile away from the home he lived most of his life.
Ron was a wonderful father, son, brother, grandson, uncle and friend. He was always smiling, ready to help anyone in need, and enjoyed an occasional practical joke. He enjoyed riding anything on wheels: 4-wheelers, motorcycles and cars — especially the fast ones. But the thing he loved most dearly was his two children: Desiree and Jake.
My dad was an amazing person. He taught me so many life skills and gave me some of the best memories I've ever had. He was always selfless and always thinking of others. Whenever I got myself in a situation over my head, I would call for advice and he always had the right thing to say or do. Every time a boy broke my heart, he would be there waiting with open arms asking if he needed to teach them a lesson about how much of a mistake they made. He was loved by all and I am so sad he won't be there to watch my brother and I go through life. I will miss him — Desiree.
My dad is not only a smart, funny guy who could turn any bad situation around; he was a loving father whom I could never replace. We were best friends. He taught me so much, but there was so much yet unsaid. His smile would brighten the day and he would be willing to move mountains to make people happy. He loved a nice mud shower on his quad after work. I will never forget him and no matter what, I would always love him and be proud of him — Jake
Ron is survived by his children, Desiree and Jake; father, Sheldon Dexter; mother, Carolyn Duffy; stepfather, Bill Duffy; brother, Chad Dexter; sister, Tonia Carter; first love, Alisha Dexter; grandfather, Earl Barkuloo; niece, Shelby Carter; nephew, Brice Carter; and many special cousins, aunts, uncles, and so many friends.
He was preceded in death by his sister, Tammy; grandmothers Mae and Maxine and grandfathers Roy and Clifford. He will be next to Tammy, as he was in life.
Services will be held on Friday, May 20, at 2 p.m. at Anderson's Tribute Center, 1401 Belmont Ave., with graveside services at Parkdale Cemetery. There will be a potluck at the Dexter home following.
Contributions can be made to Bank of America, Hood River branch.