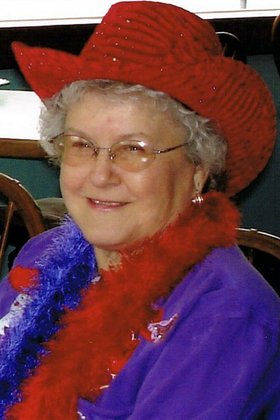 Billie Lea Walton
August 31, 1935 - October 28, 2011
Billie Lea Walton, 76, a resident of The Dalles, Ore., passed away at her home on Friday, Oct. 28, 2011.
She was born in Jay, Okla., on Aug. 31, 1935, the first child to William and Elsie M. (Bowlds) Robbins. She grew up in Hood River, Ore., where she attended Wy'east High School.
Billie married Robert Wesley Walton in Stevenson, Wash., on Aug. 14, 1959. She worked for Hood River Distillers for 33 years as a production worker.
She was a member of VFW Auxiliary 2471, Red Hat Society, Hood River Eagles Auxiliary and the American Legion, was a longtime member of bowling league in Hood River and The Dalles, and had her own Bunco club.
She is survived by her husband of 52 years, Bob Walton; children Glinda Herman and her husband, Chris, Rodney Walton and his wife, Lori, and Cheryl Jones and her husband, Rick; grandchildren Rochelle, Wesley, Jay, Jessica, Jessica, Joseph, Rodney Jr. and Ashlea; four great-grandchildren, Bryse, Seth, Cameron, Abbigayle and Emma; brother Harrison Bowlds and sister Vickie Bowlds Ward.
Private cremation held at Win-Quatt Crematory in The Dalles.
A memorial service will be held on Saturday, Nov. 5, at 11 a.m. at the Hood River County Fairgrounds, with Bob Huskey officiating.
Arrangements are under the direction of Spencer, Libby and Powell Funeral Home, 1100 Kelly Ave., The Dalles, OR 97058; 541-296-3234.