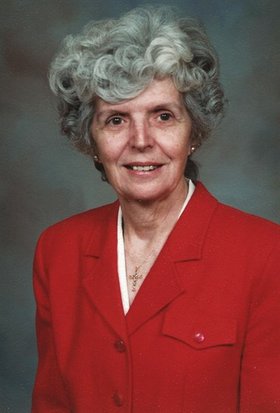 Hilda Blake Druback
January 12, 1920 - October 31, 2011
Hilda Blake Druback, 91, of Hood River, Ore., passed away on Oct. 31, 2011.
A memorial service celebrating her life will be held Saturday, Nov. 12, at 2 p.m. at Anderson's Tribute Center (Funerals, Receptions, Cremations), 1401 Belmont Ave., Hood River, OR 97031. A second memorial service is also planned at the Chatham United Methodist Church, 460 Main St. in Chatham, N.J., in the spring of 2012.
Hilda Blake Druback was born in Kearny, N.J., on Jan. 12, 1920, in the front bedroom of the family home. Hilda married Edward Julius Druback on Jan. 1, 1942, and after her husband returned from World War II they had two children.
While raising her children she became active in the local garden club. That interest soon blossomed into a keen skill for flower arranging and a deep-rooted sense of wanting to protect the natural environment.
In 1957, she and her husband opened Druback Florist in Madison, N.J. The business soon flourished and Hilda's floral design career became well-known when she won numerous floral design awards both nationally and internationally.
While building the florist shop from its humble beginnings, Hilda also worked diligently to protect one of New Jersey's great natural resources, the Great Swamp. Working through local garden clubs and the Business and Professional Women's Association, she played a key role in protecting and preserving this critical resource, eventually seeing it become the first National Wildlife Refuge east of the Mississippi River, instead of being filled in to become New York City's fourth airport.
Hilda was very active in the church. She was a longtime member of the Chatham United Methodist Church in New Jersey. Hilda represented the church as a lay member at the Northern New Jersey annual conference for years.
Never one to sit still, Hilda decided to get her college degree from Drew University in Madison, N.J. She graduated with a degree in English literature and art history in May 17, 1980, at the age of 60.
Hilda moved to Hood River, Ore., in 2008 in order to be closer to her grandchildren, whom she loved dearly. In Hood River, she was a member of the Asbury Methodist Church.
Beloved by all, Hilda is survived by her sister Lynn Zetterberg of Egg Harbor, N.J.; daughter Diana Druback, of Westerville, Ohio; son Edward Druback and his wife, Lissa, of Parkdale, Ore.; granddaughters Jennifer Druback York and Kathryn Blake Druback and step-granddaughter Jessica Leigh Wienholt.
Hilda was preceded in death by her husband, Ed; and her brothers Thomas Blake, Albin Blake and Charles Blake.
The family suggests that memorials be made in Hilda's name to the Alzheimer's Association or to Drew University's Continuing University Education.
Arrangements are under the direction of Anderson's Tribute Center. Please visit www.andersonstributecenter.com to leave a note of condolence for family.