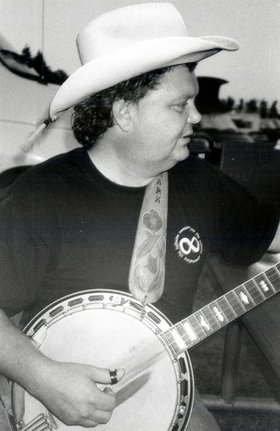 Mark Patrick Petteys
March 7, 1962 - October 22, 2011
Mark Patrick Petteys died Oct. 22, 2011, in his sleep. He had a neurological condition called chronic inflammatory demyelinating polyneuropathy (CIDP). It caused pain and numbness in his legs and hands, but he was beginning to feel better and was optimistic when he went to sleep on Friday night.
Mark was laid to rest in the Petteys Pioneer Cemetery in Ione, Ore., on Oct. 26. A celebration of Mark's life will be held in March 2012.
Mark was born March 7, 1962, in Pendleton, Ore., to Carol Petteys and the late Patrick Petteys. Pat worked for the U.S. Forest Service, so the family moved around Oregon, settling in Parkdale in 1972.
Mark was a creative banjo and guitar player. He began performing on the five-string banjo as a teenager and played throughout the United States. He was the Northwest Regional Banjo Champion in 1984. Toward the end of his life he played in a bluegrass and western swing band, Ida Viper.
Mark graduated from Hood River Valley High School in 1980. He attended Columbia University for a year and transferred to Reed College, graduating with a bachelor's degree in physics in 1985. He was a research assistant at Oregon Graduate Institute before moving to Boise to pursue a master's degree in geophysics. He later worked as a research scientist and developed charged particle optics systems and other scientific systems.
Mark was fascinated with science - he studied physics, math, chemistry, geology, geophysics and hydrogeology - and was always sharing his insights with his friends and family.
Mark met Phyllis Manos in 1983 while both were attending Reed College. They were married in 1987 in Cleveland, Ohio. Their son, Guthrie, was born in 1991 in Boise.
Mark loved the outdoors and was a serious fisherman and fearless whitewater rafter. He was an incredible father, playing chess with Guthrie instead of Candyland, and taking him rock hounding, fishing and rafting at an early age.
Mark was a funny storyteller and made people laugh and feel special. He called musicians in the middle of the night to discuss chord changes or tunes. He enjoyed camping trips with friends and had a zest for life.
He is survived by his wife, Phyllis, and son, Guthrie, of Forest Grove; mother, Carol Petteys, and brother Kelly Petteys, of Parkdale; brother Jeff (wife Faron and daughter Drake) of Clovis, N.M.; mother-in-law, Kathy Manos, of Cleveland, and other extended family.
He was preceded in death by his father, Pat Petteys and father-in-law, Eli Manos.
Somewhere there's music, how faint the tune
Somewhere there's heaven, how high the moon