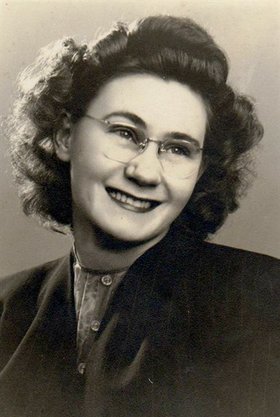 Angeline "Angie" Mae Mariah Allen
December 17, 1920 - October 26, 2011
Angeline (Angie) Mae Mariah Allen, 90, died peacefully in the home of her daughter Wanda in Home Valley, Wash., on Oct. 26, 2011, where she had been lovingly cared for since a stroke in 2009. She was born on Dec. 17, 1920, in Devil's Lake, N.D., the second of 10 children born to the late John and Josephine Budd.
Her family moved from North Dakota to Walla Walla, Wash., where Angie attended college and then worked as a secretary until 1951 when she married Norman G. Allen in August of that year. Together they raised four children, moving first to Bremerton, Wash., then to Appleton, Wash., before settling for a time in Stevenson, Wash. As they grew older they became snowbirds, flitting to Quartzite, Ariz., for the winters.
Angie loved Jesus, loved people and loved helping those in need. She volunteered her time at the Seventh-Day Adventist community services center putting together food baskets for the holidays. She also diligently sent personal cards for birthdays and anniversaries to a mailing list numbering in the hundreds.
She was a member of the Seventh-Day Adventist churches in White Salmon, Wash., Hood River, Ore., and most notably Stevenson, Wash., where she was a Cradle Roll teacher for many years, sharing with the little ones the story of Jesus. She always had a hike planned or sledding parties for the youth, and loved to see the young people filling the pews of the little church.
She daily lived her life by the principles she held dear, with time spent daily in the Word of God and hands that were never idle. Even when arthritis in her fingers brought pain, there was still always a pantry full of breads, pies and cookies, canned peaches, pears and cherries, ready for any and all who would accept her invitation to share a Sabbath meal.
She enjoyed crocheting, playing board games and card games, and walking with enough purpose and energy to make the younger generations run to keep up! She walked everywhere she could; rain or shine, snow or ice, it didn't matter to her! And Oh, her love of high heels! Such disappointment when her family asked her to put them away at the youthful age of 83!
Her love for traveling included her many spur-of-the-moment weekend getaways on the back of the Honda Aspencade during their retirement years (including visiting their favorite buffets!), going to Quartzite in the winters with the fifth-wheel, sometimes with a load of "real" Christmas trees to spread the holiday cheer, and flying around the country after Norman's death to see her many relatives and loved ones.
Angie was preceded in death by Norman, her husband of 50 years, in 2002; her parents; her brother Orpheus Budd and sister Rose Ludlow.
She is survived by two sons: Terry (Anita) Allen, of Parkdale, Ore., and Daryl (Lis) Allen, of Carson, Wash.; two daughters: Wanda (Craig) Salvesen, of Home Valley, Wash., and Holly (Bob) Adderly, of McMinnville, Ore.; 10 grandchildren; two brothers: Joe (Patsy) Budd, of Prescott, Ariz., and Lyle (Lee) Budd, of Moses Lake, Wash.; five sisters: Marjorie (John) Weir, of Colbert, Wash., Cleo (Glen) Forgey, Hazel (Wayne) Burns, of Dayton, Ohio, Ruthie (Don) Jacobsen, of Hiawassee, Ga., and Naomi (Bill) Parsons, of Citrus Heights, Calif.; 20 great-grandchildren, numerous nieces, nephews, grand-nieces and nephews, and great-grand nieces and nephews.
A memorial service will be held on Nov. 19 at the White Salmon Seventh-Day Adventist Church at 3 p.m. and will be officiated by Pastor Pat Milligan.