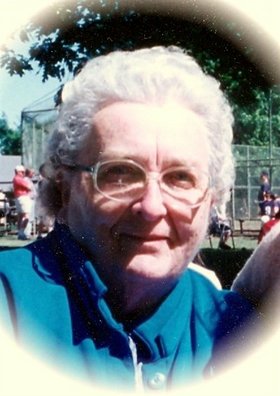 Arleen Frances Godard
October 29, 1918 - October 16, 2011
Arleen Frances Godard made her entrance at home on a cold, snowy, early morning, Oct. 29, 1918, in Highmore, S.D. Her father had lit a lantern and hung it on a gate post so the doctor wouldn't miss their place.
Proud parents were Strong Paul Spencer and Hazel Eleanor (Mesick). She joined older brother, Everett Paul, and sister, Vivian Ruth. Brothers Robert Lawrence (Highmore, S.D.), Ralph Morris "Jimmy" (died in infancy, Emmaville, Minn.), Forest Dale (Emmaville, Minn.) and Darrel Lee (Tillamook, Ore.) would soon follow.
Arleen's mother taught school in a one-room South Dakota prairie school, near Highmore. The family moved to Emmaville, Minn., after Robert was born. Her father was looking for work and his brothers thought going north would benefit them.
Life in Minnesota was hard for the Spencers. Arleen's father worked in the woods, cutting firewood. But Arleen said of their life in Minnesota: "As poor as we were and with so little, we were happy."
The children attended a one-room schoolhouse across the road from their small, four-room, two-story house. Arleen loved spelling and received many certificates for spelling proficiency.
In the spring of 1928, her father "got the itch" to go west to Tillamook, Ore., to where her two uncles, Al and Clive, had emigrated two years earlier. They packed all their belongings into an old Ford Flivver and began the long, slow journey to Oregon.
Arleen recalled the many stops to repair flat tires, and hauling water to refill the canvas bucket hanging in front of the radiator. The family stopped in Missouri and Colorado to visit Spencer relatives. They arrived in Tillamook in the fall.
Arleen became a Girl Scout and also obtained a paper route from a neighbor girl. It was on one of her last deliveries that she met her future husband, Russell Holcomb Godard.
The summer just before Russell left for college at Oregon State College, he kissed her. Arleen had stars in her eyes. She went upstairs to her room and stood with her elbows on the windowsill for the longest time. After Russell proposed, Arleen showed the ring to her father, who looked at it and said, "What stick of candy did you get this off of?"
Arleen and Russell married June 29, 1941, in Tillamook. Russell taught math at Tillamook High School for five years. During this time, they also lived in Pocatello, Idaho, where Russell taught mathematics at the University of Idaho, southern division, to soldiers.
In 1945, they moved to Eugene, Ore., where Russell taught math at Colin Kelly Junior High. In that same year, they adopted their first son, Russell Lee. Another son, Robert Dale, was born in 1948, and a daughter, Sharon Frances, in 1950.
In 1950, the family moved to Corvallis, Ore., where Russell began teaching mathematics at Oregon State College. He retired from OSU in 1981.
Arleen was a true homemaker. She was a wonderful cook. She would can hundreds of quarts of clams, beans, corn and fruit. At Thanksgiving for the next many years, Arleen helped provide many a delicious meal. Her needlepoint and crochet were second to none.
When the youngest children entered junior high school, Arleen worked at Western View Junior High School as an assistant cook for a number of years. She left that job when her children were out of high school and took a job as secretary in an insurance office for the next many years.
Arleen did not join organizations. She was very content to be home for her family. She also was a devoted Christian woman who, in her years in Tillamook, would attend all the church activities as well as every revival meeting during the summers. She loved singing hymns and memorized many.
Russell passed away in June 2000, in Corvallis. Arleen eventually sold their home they had built and moved into the Regent retirement home. She lived there until 2010, when she moved to Silverdale, Wash., to live with Sharon and her husband, Greg Johnson. In the spring of May 2011, she moved to Hood River, Ore., to live with Robert and his wife, Margaret.
The last six months of her full life were filled with church, family gatherings, garage sales, movies, jigsaw puzzles, reminiscing, shopping, weekly hair appointments, crossword puzzles and sitting and relaxing in the warm summer sun.
Arleen passed away Oct. 16, 2011, in Hood River, at the age of 92.
She is survived by her younger brother, Forest, of Prineville, Ore.; sons Russell of Philomath, Ore., and Robert, of Hood River; daughter Sharon of York, Pa.; grandchildren Ben Johnson, of York, Pa., Spencer Godard and Lisa Godard of Hood River, and Jason Godard of Corvallis, Ore.
She is dearly missed, but fond memories of her will stay with all of us. She touched many people throughout her long life. We should all be so lucky to have such a mother as her.
A memorial service will be held at Asbury United Methodist Church, 616 State St., Hood River, on Nov. 19 at 2 p.m. The Rev. Andy Wendle will officiate.
Arrangements are under the direction of Anderson's Tribute Center (Funerals, Receptions, Cremations), 1401 Belmont Ave., Hood River OR 97031; 541-386-1000. Please visit www.andersonstributecenter.com to leave a note of condolence for family.