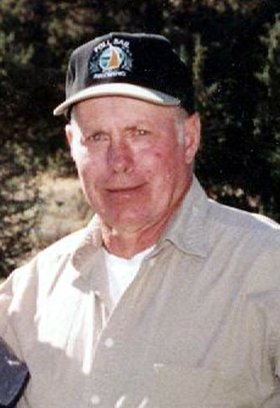 Donald Ray London
August 27, 1943 - November 12, 2011
Donald Ray London was born Aug. 27, 1943. He arrived with a twin sister Dorothy in St. Louis, Mo. Dorothy passed away at 6 months old.
Don was extremely proud of his roots, coming from a poor share cropper family. He started working at an early age (12 years old) earning 25 cents an hour picking cotton, doing 10-hour days. The wages were children's wages with the adults earning 50 cents an hour.
While Don was still 12 the London family moved to California where they could get jobs for the children and adults at $1 an hour. They followed the harvests, picking fruits and vegetables, slowly working their way up the West Coast, finally arriving at Mt. Adams Orchards above BZ Corner, Wash., in 1957.
Don went into the army in 1960 and was discharged in 1962 as an army intelligence specialist (he said they must have known something he didn't). He was stationed in Germany and patrolled the east and west German borders.
As a young man he loved riding horses and racing motorcycles with his brother Bill. He was a hard-working young man and worked at various jobs and also owned and operated his own logging business.
He married Millie West in 1964 and they had three children: John, Dan and Teresa. After five years Mille and Don went their separate ways but remained friends.
Don met and married Effie Phelps in 1968. They had one son, Mike London, and two stepchildren, Nicky and Jackie Phelps. Don and Effie parted as friends and went their separate ways.
Don met his true love, Ginger, and after several years of Don trying to convince Ginger what a great guy he was they married in 1988. For their honeymoon they attended a high school homecoming football game and Jerry Smith, as the game announcer, told the world over the loud speakers about their marriage and newlywed status!
Ginger brought to this marriage two children, Bobbie and Pam (Tweety).
Don and Ginger finally settled in their current home near the high school in White Salmon, Wash. Don and Ginger enjoyed golfing and especially the summer tournaments.
Don wanted to say a huge, warm thank you to Terry and Kerri Anderson, Rudy and Keren Dierickx and Don and Heidi Struck for the tournaments and the good times. It meant a lot to him.
Don enjoyed hunting a great deal and his most favorite hunting dog of all time was Huckleberry! Once asked how long he was going to bird hunt with Huckleberry, Don said until he couldn't throw him in the air anymore.
Huckleberry would get into porcupines and have to be taken to the vet to have the quills removed. The vet gave Huckleberry some good pain killers; so good that as soon as the meds were gone Huckleberry would hunt up a porcupine, get the quills stuck and wait in the pickup for the trip to the vet.
Don emphasized his great love for his family and how proud he was of each and every one of them. He really loved his grandchildren and great-grandkids and wanted them close as much as he could.
Don passed away at his home on Nov. 12, 2011. He is survived by his wife, Ginger; children Dan London of California, Teresa London of Portland and Mike London of Vancouver; stepchildren Pam Lewis of Portland, Bobbie Gentry of Portland, Nicky Phelps of White Salmon, Jackie Thomas of White Salmon and John Garret of Mosier; sister Flora Hamlin "Bobie" of Poplar Bluff, Mo.; numerous grandchildren and great-grandchildren and lots of nieces and nephews.
He was preceded in death by his parents, Hank and Lila London; brothers Jack and Bill London and sisters Jean Martin and Patricia Merrick.
A memorial service for Don will be held at Gardner Funeral Home (1270 N. Main, White Salmon, Wash.) on Saturday, Nov. 19, at 10 a.m. with a potluck reception to follow at the Elks Lodge in White Salmon. Don will be greatly missed by all.