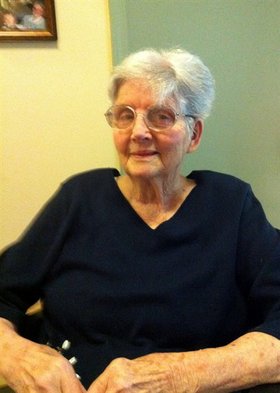 Nita Gail Nault
October 23, 1923 - November 21, 2011
Nita Gail Bost was born in Oklahoma Oct. 23, 1923, and grew up in the Dust Bowl, a hard life that made people strong. As a young girl, her family of share-croppers worked throughout Oklahoma and Arkansas during the Great Depression. When the Ku Klux Klan threatened to put an end to Nita's stepfather due to his abuse, they were forced to flee to Colorado.
Nita met and married in 1939 and began her life as a wife and mother. During World War II Nita moved to California and took work in a San Diego naval shipyard to support the war effort as well as her young daughter, Jeanice Cramer.
In 1945 she married again and had another daughter, Beverly, and a son, Roger Keesey. The last move was to Oregon, where she met Sheridan Joseph Nault (Bud). They were married 51 years before Bud passed away from cancer. Nita and Bud raised his sons, Sheridan and Michael, her daughters and son, and their own twins, Kathy and Karen.
Nita loved to keep a tidy and comfortable home and cook and bake for her family, friends and neighbors until her age began to interfere. Nita relocated to Brookside Memory Care Facility in the spring of 2011 to be close to her youngest daughters.
Nita was preceded in death by her eldest daughter, Jeanice, in 1973.
She is survived by her son Roger Keesey and his wife, Susan, of Hillsboro, Beverly Goodman, of Redmond, Kathy and Phil Remer and Karen and David Thompson, of Hood River. Nita loved her kids and 11 grandchildren and 18 great-grandchildren, and one great-great-grandson.
Nita waited until most of her family was able to visit her before she passed away on Nov. 21, 2011. At Nita's request there will be no service; no flowers. Donations may be made to Hood River Heart of Hospice.
Arrangements are under the direction of Gardner Funeral Home, 1270 N. Main, White Salmon, Wash.; 509-493-1323.