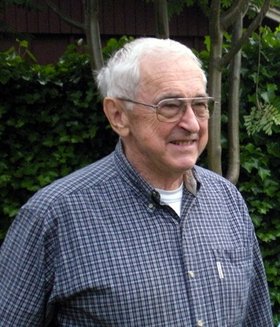 Alan Bruce Cassady
unknown - September 18, 2011
Oregon native Alan Bruce Cassady, 81, died on Sept. 18, 2011, of heart failure at Pacific Gardens, a care facility in Portland, Ore.
He grew up in Portland during the Depression, attending Whitaker Elementary and Benson High schools. He then joined the Air Force during the Korean War.
While stationed in Minnesota, his barracks were destroyed by a tornado, so he went to a drug store to replace his missing alarm clock. There he met his bride-to-be, Janet May Froelich, working as a soda jerk. They married the next summer, and returned to Portland to start their married life.
The family attended Luther Memorial church, then Gethsemane Lutheran. Alan and Jan had four children, and raised them on an old farm in Damascus. Alan worked as an electrician by day, returning to the farm to finish chores at night.
The family moved back to Portland in 1977, where Alan became an electrical inspector after working for Tice Electric Company. He eventually became chief electrical inspector for the City of Portland, then retired in Hood River, where he built and developed Blueberry Hill Farm.
Alan loved to tinker, and could fix just about anything, even inventing various small useful items. He was a family man, active in church, the Lion's Club, Meals on Wheels and the Boy Scouts.
In Hood River, he tended 1,200 blueberry bushes at Blueberry Hill, and enjoyed rowing and fishing in their pond with his grandchildren. He always had a story to share, and was well-liked by many.
He is survived by his wife of 59 years, Jan; sons Roger and Kevin (Connie), daughters Judy Mayo (Reese) and Jennifer Faulkner (Todd); eight grandchildren; two great-grandchildren; and brother, Bob Cassady.
He was preceded in death by his parents, Ray and Marjorie Cassady, and sister, Patricia Redjou.
A private memorial service was held on Sunday, Oct. 2. Memorial contributions may be sent to the Hood River Lions Club.