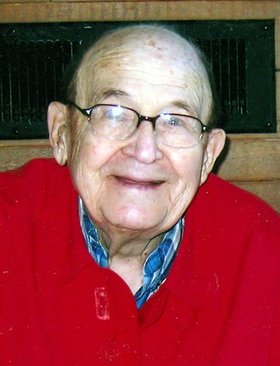 Charles "Chaz" Haisman
November 30, 1917 - October 7, 2011
Charles "Chaz" Haisman, 93, passed away Oct. 7, 2011, at Providence Brookside Manor of Hood River, Ore.
He was born Nov. 30, 1917, in Chicago, Ill., to Charles and Anna (Smid) Haisman. He enjoyed the outdoors as a child — his mother marveled at his love for playing outside as she scrubbed him from head to toe each evening.
As a young man, Charles worked at the Chicago Rivet and Machine Company, where he learned how to be a machinist. He earned awards for his work at the company.
In 1952 Charles married Anne Plath and he adopted her two young sons, Anthony and Stephen.
Chaz was a master machinist by trade and worked until retirement for Lawrence Livermore National Laboratory in Northern California. During this time, his hobby of antique clock collecting and repair became more than a hobby, as he built a shop above the garage and spent a lot of his free time there.
His passion of collecting clocks spread through word of mouth and Charles and Anne gave regular tours of their home to view 1,000 clocks of all sizes and origins.
Over 30 years ago, he and his wife were overjoyed to find Hood River for retirement. He became known as the Clock Man in the Hood River area also, as they continued their hobby in their historic home on the Columbia River.
Retirement was very busy with the clock shop and then building two houses that they lived in throughout their retirement.
Charles is survived by his son, Stephen Haisman, of Portland, Ore.; two granddaughters, Angelique Strahan of California and Aiyana Haisman of California; three great-granddaughters, Sheyna, Isabella and Anna; and his niece, Diane McCook, of Chicago.
He was preceded in death by his parents; sister, Elsie Mulig; son, Anthony Haisman in 2010 and wife, Anne, in 2009.
A service to honor Chaz is planned for 11 a.m. Friday, Oct. 14, at Anderson's Tribute Center 1401 Belmont Ave., Hood River, Ore. Father Ron Maag of St. Mary's Catholic Church will officiate. Interment will follow at Pine Grove Butte Cemetery.
Memorials can be made in memory of Charles to: Providence Hospice of the Gorge, 1630 Woods Court, Hood River, OR 97031.
Please visit www.andersonstributecenter.com to leave a note of condolence for family.