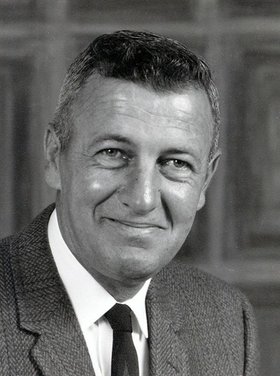 Charles "Don" Donald Marsh
November 10, 1927 - October 16, 2011
Charles Donald Marsh passed away at his home in Hood River on Oct. 16, 2011. He will be missed by his family and his many friends. Don was a true original and known for his humor, generosity, and as a respected orchardist.
Don was born Nov. 10, 1927, in Hood River, Ore., to Glenn B. and Donna E. (Ward) Marsh who moved to Hood River in 1909 from Steuben County, N.Y. His brothers were Robert Ward Marsh, of Parkdale, and Glenn Wilson Marsh, of Hood River. The family lived for many years on Brookside Drive and all were orchardists until their passing.
Don attended schools in Hood River and graduated from Hood River High School in 1946. He was well-liked all through school, participated in several sports and through the years remained close to many of his friends from school.
After high school, Don enlisted in the Army and was stationed in Japan after World War II. Upon returning from duty, he joined his brother Bob in the propane delivery business. During this time he courted his first wife, Carol Jean Clodfelter, daughter of Donald and Ethel Clodfelter of Grass Valley. They were married on Dec. 23, 1949, in The Dalles.
After marriage, Don began to farm on Brookside Drive, down the road from his parents. Their children, Richard Donald and Philip Alan were born during these years. In 1965 Don and Carol bought an orchard near Odell where he farmed until Rick took over the operations in 1978. He and Carol had the opportunity to take several trips together and enjoyed friends and family until she passed away in 1983.
On May 18, 1984, Don and Shirley were married at their home in Odell. Don and Shirley knew each other since grade school and enjoyed 26 years of marriage before Don's passing. Shirley was a loving wife and best friend throughout their marriage. They enjoyed many happy times together with their families and watched the grandchildren grow up and be productive and independent.
Don was active in several volunteer organizations and also a past board member of Diamond Fruit for a number of years. His greatest pleasure was from his membership in the Crag Rats. There he contributed in leadership roles and also helped on a number of search missions. He was proud to be a member of this organization that has contributed so much over the years performing search and rescue support.
He is survived by his wife, Shirley; his son Richard and daughter-in-law Sharon, of Hood River, and son Philip of Portland; and Shirley's children, daughter Peggy Courtney, of Eugene, son Ken Clarke and his wife, Alice, of Hood River, and daughter Colleen Vannet, and her husband, Chris, also of Hood River; nieces and nephews; and grandchildren and great-grandchildren.
A service for Don will be held at Anderson's Tribute Center in Hood River on Saturday, Oct. 29, at 3 p.m. A reception will follow.
The family requests that donations be made to the Odell Fire Department, the Crag Rats or to a charity of your choice.
Arrangements are under the direction of Anderson's Tribute Center, 1401 Belmont Ave., Hood River, OR 97031; 541-386-1000. Please visit www.andersonstributecenter.com to leave a note of condolence for family.