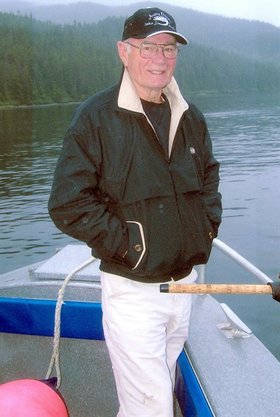 Donald "Don" Alfred Betz
October 4, 1932 - August 29, 2011
On Aug. 29, 2011, Don Betz passed to join his heavenly father and Lord Jesus Christ in everlasting life after a long struggle with lung disease. He died in the comfort of his home - built with his own hands in 1970 - surrounded by family.
Donald Alfred Betz was born on Oct. 4, 1932, in a naval hospital in San Pedro, Calif., the only child of Gerald Alfred Betz, a career Navy man from Pennsylvania, and Berniece Willey, a telephone operator with the Newark Telephone Company before Don was born.
Don graduated from Englewood High School in 1948 at age 16 - an excellent student, promoted one grade to finish early. He joined the United States Navy upon graduation and served in the Korean War.
Following an honorable discharge at age 21, Don joined the Los Angeles Police Force, where he excelled and was highly decorated. He rose through the ranks to become a homicide detective, and held a California teaching credential for law enforcement and traffic school, teaching at local community colleges.
Don was offered a promotion to captain within the Los Angeles Police Force at age 32, choosing instead to move to Hood River Valley, having fallen in love with the Hood River County area during a visit to friends.
Don built a highly successful construction company in Hood River County, beginning with his own home, followed by many custom homes, schools, fire stations, bridges, courthouses - including the county swimming pool enjoyed by many residents and visitors. He received numerous recognition for exceptional work.
His business has been, and is still, served by many dedicated employees, including, but not limited to, Gary L. Jones, his right-hand man and close friend for many years, and Polly Schleusner, his office manager/secretary. He was known as a firm but fair-minded individual, caring for each and all of his employees.
Don served a term as president for the Port of Hood River, and served on the Hood River County School Board. His best days were spent outdoors - hunting, fishing and training his cherished Labrador retrievers, Bingo and Jake, with good friend Dr. "Al" Henderson.
Don and Linda, his wife and partner for more than 20 years, were both licensed pilots and took many long flights, enjoying sights far and near. They enjoyed many activities in common. Both dedicated fitness fans, they enjoyed water skiing, snow skiing and golf, as well as the occasional marathon run. Two to three days a week would find Don working out at his gym until just recently.
Don and Linda enjoyed a wonderful marriage and were "best friends for life" every day. Their yearly trips to Hawaii provided a quiet respite to their active life.
Don was an active member of Riverside Community Church, singing in the choir for more than 30 years and remaining an avid music lover to the end.
Throughout his life, Don remained a steady steward for all he loved and protected. He enjoyed active relationships with each of his adult children and grandchildren. His careful, steady manner benefited not only beloved family members, but his employees, parishioners and neighbors, as well.
Don will be sorely missed and remembered fondly by all who knew him.
He is survived by his wife, Linda; son, Dan (Kari); daughter, Lori; stepson, Wes (Maggie) Bouvard; and stepdaughters Terra (Phil) Emerson and Kelly (Jeff) Sparks. Several grandchildren and great-grandchildren continue his legacy.
Memorial services will be held at Riverside Community Church, Hood River, on Friday, Sept. 9, at 2 p.m. Military recognition and reception will follow at Divots Clubhouse Restaurant, Indian Creek Golf Course, Hood River.
Donations may be made to Riverside Community Church, 317 State St., Hood River, OR 97031; or Horizon Christian School, 700 Pacific Ave., Hood River, OR 97031.
Arrangements are under the direction of Anderson's Tribute Center (Funerals, Receptions, Cremations), 1401 Belmont Ave., Hood River, OR 97031; 541-386-1000. Please visit www.andersonstributecenter.com to leave a note of condolence for family.