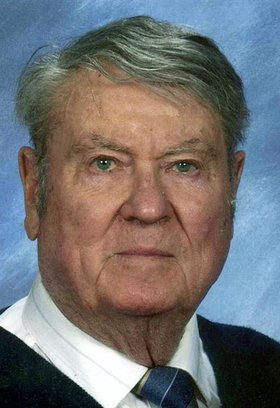 Theodore "Ted" Owen Mohr
August 11, 1922 - September 7, 2011
Theodore (Ted) Owen Mohr, 89 passed away on Sept. 7, 2011, in Eugene, Ore., due to age-related issues. He was born Aug. 11, 1922, in Hood River, Ore., to Carl and Gertrude (Coughlin) Mohr.
Ted attended Oregon State University and served in the Navy in World War II and the Korean War. He moved to Eugene after the Korean War. He married his wife, Elaine, on June 3, 1944, in Hood River.
He was co-owner of Scobert Building Material Company and owned Mohr Sales (auto parts sales).
Ted was an avid fisherman and loved his OSU Beavers.
He is survived by his wife, Elaine Mohr; sons Tom Mohr, of Eugene, Richard Mohr, of Champaign, Ill., and Jay Mohr, of Scottsdale; four grandchildren and three great-grandchildren. He will be greatly missed by his family and friends.
A Funeral Mass will be held Sept. 15 at 11 a.m. at St. Jude Catholic Church in Eugene, with a burial following the service, 1 p.m. at Mt. Calvary.
Remembrances may be made to the Alzheimer's Association of Lane County or Sacred Heart Hospice.
Arrangements are under the direction of Musgrove Family Mortuary, 1152 Olive St., Eugene, OR 97401; 541-686-2818.