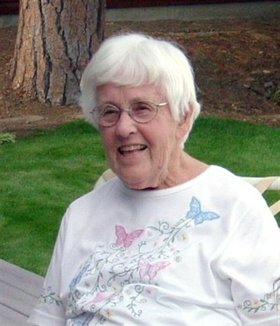 Helen W. Hackett
April 26, 1917 - September 1, 2011
Helen W. Hackett, a resident of Hood River, Ore., for many years, passed away Sept. 1, 2011, in Mesa, Ariz., from sudden heart and respiratory failure.
Helen was born April 26, 1917, in Coeur d'Alene, Idaho, to Levi and Edith Wing. She was an only child. She grew up in Portland, Ore., graduating from Lincoln High School in 1935.
She then went to Mills College in Oakland, Calif., for two years before financial circumstances required her to enter the work force in Portland. There she met her husband of 69 years, Robert (Bob) Hackett, who had grown up in Hood River. They married in 1941.
During World War II Bob's engineering work took the couple to Salt Lake City, Utah, and Oak Ridge, Tenn., where they had their first two children, Robert Jr. and Sally. After the war the couple moved to Hood River where they had two more children, Thomas and Martha.
In Hood River, Helen was a homemaker when her children were young. In 1961 she returned to college, commuting to Portland State College. She received her bachelor's degree in 1964 and then became a sixth-grade teacher at May Street School from 1964 to 1981, when she retired.
Following retirement, Helen and Bob became part-time residents of Hood River, spending the winter months in Arizona. In 2003 they moved full-time to Mesa.
Helen was a great mom and she especially liked family rituals such as celebrating birthdays, hosting holiday dinners and attending graduation ceremonies for her kids and grandchildren. Family was most important to her.
Just one week before her death, she had returned from a wonderful week-long stay in Hayden Lake, Idaho, where she had traveled to be together with her children and daughter-in-law Mardi, two grandchildren and a great-grandchild. Given the rigors of travel these days and her age and physical limitations, the trip was a testament to her will and determination.
During retirement Bob and Helen traveled and took many cruises. She also liked dancing, golfing, reading, and especially playing bridge. In the last few years when her back and knees limited her physical capabilities, bridge became a key diversion and social activity for her. She was quite competitive at cards. Always bright, she remained sharp to the end.
Helen was preceded in death by her husband (2010) and her eldest daughter, Sally (2003). Her sons Bob and Tom, and daughter Martha Buffington, six grandchildren and four great-grandchildren survive her. Her niece, Nora Hounsell Hinton, of Seattle, Wash., also survives her.
At her request there will be no service. Remembrances may be made to the Hood River Library Foundation, P.O. Box 1582, Hood River, OR 97031; the Sally Hackett-Connell Memorial Scholarship, Hood River County Education Foundation, 1009 Eugene St., Hood River, OR 97031; or the charity of choice.