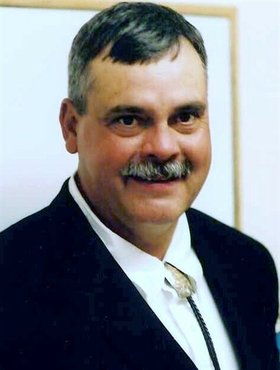 Gerald "Jerry" Lee Sheirbon
December 1, 1959 - September 17, 2011
Gerald Lee "Jerry" Sheirbon, 51, passed away Sept. 17, 2011, at his home on the family farm in Odell, Ore. Jerry was born Dec. 1, 1959, in Hood River to Joseph C. Sheirbon Sr. and Gertrude (Moore) Sheirbon.
He grew up in the Valley attending elementary school at Mid Valley and Hood River Valley High School. Jerry grew up working the Sheirbon family orchards in Odell.
In his youth Jerry was active in 4-H, Cub Scouts and Boy Scouts, and he especially enjoyed the family trips to the coast and Eastern Oregon. He was always excited to travel to Colorado to visit his sister Jeanne and family, with whom he was very close.
Jerry was very proud of his pumpkin patch in Odell where the Mount Hood Railroad would stop in the fall for those aboard to pick out a pumpkin and enjoy some apple cider, fruit and a hay ride around the farm.
Jerry enjoyed Indian lore and memorabilia. He enjoyed going to rock, fossil and mineral shows in Arizona and was always going to yard sales and auctions. He liked to cook and listen to old rock-and-roll music. He had his mother's love of flowers and loved her paintings.
He really enjoyed spoiling his great-niece and great-nephews. He also enjoyed texting his family about the cows and calves that were on the "forty" and the dinners he had cooked.
On May 13, 2006, Jerry and Insun "Sunny" Kang were married. Together they worked the orchard and enjoyed going to antique shows. They would take fruit to Portland to sell and then head to the Oregon Coast for the great buffets. They liked to watch "Wheel of Fortune" together, walk the dogs and feed the cattle.
Jerry's untimely and unexpected death leaves much sadness for his family and friends. He is survived by his wife, Insun "Sunny" Sheirbon, and her children: Richard McCorquodale, of Hood River, Robert McCorquodale and his wife, Carie, of The Dalles, Ore., and Rachal Schmidt and her husband, Deryl, of North Dakota; brothers Joe W. and his wife, Kay, and Thomas and his wife, Donna; sister Jeanne McDonald and her husband, David; three nephews, three nieces, five great-nephews, five great-nieces, three grandchildren and numerous cousins, aunts and uncles. He is also survived by his loyal dogs, Daisy, Charlie and Lucky.
In addition to his parents, Jerry was preceded in death by a niece, Sarah Sheirbon.
Services are planned for 2 p.m. Saturday, Sept. 24, at Anderson's Tribute Center (address below), with a reception to follow. Graveside vault interment will be at 4:30 p.m. at the Upper Valley Cemetery of Parkdale.
Donations can be made to the Odell Methodist Church, Odell Fire Department of the Lions Club.
Arrangements are under the direction of Anderson's Tribute Center (Funerals, Receptions, Cremations), 1401 Belmont Ave., Hood River, OR 97031; 541-386-1000. Please visit www.andersonstributecenter.com to leave a note of condolence for family.