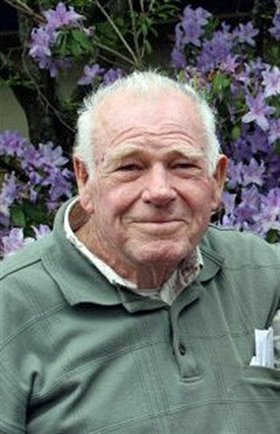 Clarence Hazel Donaldson
March 12, 1937 - March 28, 2012
Clarence Hazel Donaldson passed away at the age of 75 on March 28, 2012. He was born in Hamburg, Ark., on March 12, 1937, to Inez Nancy Bell Nelson Donaldson and Richard Hazel Donaldson. After high school Clarence moved from Arkansas to Crescent City, Calif.
He served in the U.S. Army and after his honorable discharge went to work for General Telephone in Crescent City. In 1974 Clarence and his family moved to Newberg, Ore. After his retirement from GTE in 1987, he moved to Wenatchee, Wash., Leavenworth, Wash., and finally settled in Appleton, Wash.
Clarence loved spending time with his family, playing golf, bowling, fishing and oil-painting landscapes and nature scenes. He was a member of the Elks Lodge and a lifelong Arkansas Razorbacks fan.
He is survived by his wife, Donna, of Appleton; children Theresa Martin, of Salem, Ore., Lori Fields, of Happy Valley, Ore., Frank Donaldson, of Newberg, Don Donaldson, of Dundee, Ore., and Brad Donaldson, of The Dalles, Ore.; brothers Bill Donaldson, of Grants Pass, Ore., Dale Donaldson, of Crescent City and Herschel Donaldson, of Arkansas; sisters Peggy Hendry, of Arizona, Betty Bidiam, of Salem, and Jo Ann Grant, of Arizona; 13 grandchildren and 12 great-grandchildren.
He was preceded in death by brothers Haskell Barnett and Devaughn Donaldson.
Funeral services will be held at 1 p.m. on Friday, April 13, at Gardner Funeral Home in White Salmon, Wash. In lieu of flowers, memorial contributions may be made to Heart of Hospice 205 Wasco Loop, Suite 202, Hood River, OR 97031, or to the Ray T. Yasui Dialysis Center, 1151 May St., Hood River, OR 97031.
Gardner Funeral Home, 1270 N. Main, White Salmon, Wash., handled arrangements.