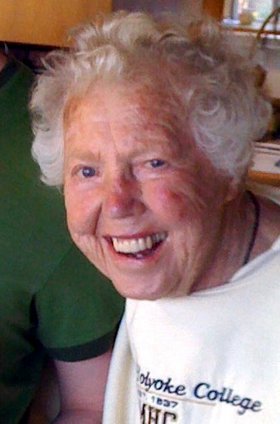 Ann Johnson Cushman
April 22, 1923 - April 14, 2012
Ann Johnson Cushman, 88, a longtime Hood River resident who founded the local chapter of the American Association of University Women and taught hundreds of children how to swim through the Red Cross swimming program, died on April 14, 2012, in Hood River.
Her memorial service will be at 3 p.m. Monday, April 23, at St. Mark's Episcopal Church in Hood River.
Ann, who had struggled with ill health, moved to Hood River in 1950 with her husband, John Cushman, who was Hood River County District Judge for 18 years and before that, Hood River District Attorney. He died in 1996.
Born April 22, 1923, in Worcester, Mass., she graduated from Mount Holyoke College in 1945 with a degree in chemistry. After graduation, she worked at American Cyanamid in Connecticut, waiting for her fiancé, the pilot of a B-24 Liberator bomber, to finish his mission with the 8th Air Force in England. They were married in June 1946 and moved to Albany, N.Y., where she worked as a chemist and he completed his law degree at Union College.
After he graduated, they moved to California, where he studied at Stanford University and she worked as a chemist. Friends in law school convinced them to move to Oregon to start a law practice. They moved to the Hood River in 1950, and had three sons: Rich, Rob and Peter.
In Hood River, Ann worked as a kindergarten teacher, a legal secretary and in real estate. She was a member of the Hood River Music Association, served on park and school committees and taught Red Cross swim lessons at the Hood River pool for at least three decades. She also taught swimming at Camp Yallani.
Throughout her life, she dealt with numerous health challenges, including childhood polio, two bouts of cancer, a broken neck and rheumatoid arthritis. She was, however, a sportswoman who enjoyed tennis, skating and skiing.
Her love of swimming was a lifelong passion; when she contracted polio just before she started high school, it was swimming that helped her to recover. Her multiple hardships, she said, might be a way to encourage others to stay strong and positive through adversity.
Ann was an active member of St. Mark's Episcopal Church, where she served on the vestry for several years. She was a gifted gardener, a good friend and a dog lover.
She loved the view of the Gorge from her home, and also enjoyed traveling. She and her husband visited Cape Cod, England, Greece, the Caribbean, Hawaii and Alaska.
A list she wrote before her death said she liked "summer gardening, fruits and vegetables, swimming at Cape Cod," as well as Girl Scouts, towing little ones on the frozen pond and church choir.
She loved spending time with her grandchildren, Cassie, Peter and Josef. In 2008, Mrs. Cushman went to Massachusetts to see Cassie graduate from Mount Holyoke, her alma mater.
"Ann's talents were considerable," her sister, Sally States, wrote in a note to the family. "She loved sharing what she knew how to do well, be it gardening, cooking and baking, art ideas and paintings, hospitality to her many friends in Hood River ... her ability to do secretarial work for her husband and love, John ... Her marriage to John was a great strength and was her joy."
Her sister added, "mostly I think of Ann as most people do — the smiling, happy woman who loved sunshine and whose personality was like the sun the way it brought out the smiles in others. She was until the end uncomplaining, self-sufficient; full of love for everyone she knew. We are enriched by knowing her and will always hold her dear."
Ann is survived by her sister, Sally States, of Rochester, N.Y.; her son Rich, of Hood River; her son Rob, of Davenport, Iowa; grandsons Peter Cushman of Hood River and Josef Cushman of Newport, Ore., and granddaughter Cassie Cushman, of Chicago.
She was preceded in death by her brother Richard Johnson, of Syracuse, N.Y., her son Peter, and her husband, John.
In lieu of flowers, Ann suggested donations to the Endowment Fund of St. Mark's Episcopal Church.
Arrangements are under the direction of Anderson's Tribute Center (Funerals, Receptions, Cremations), 1401 Belmont Ave., Hood River, OR 97031; 541-386-1000. Please visit www.andersonstributecenter.com to leave a note of condolence for family.
Condolences are being received online.
Services Location
Anderson's Tribute Center
1401 Belmont Ave. Hood River, OR 97031
541-386-1000
Fax 541-386-7380