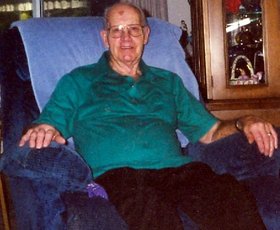 Charles "Chuck" Vanek
May 16, 1918 - April 15, 2012
Charles "Chuck" Vanek, 93, passed away April 15, 2012, at his home in Hood River, Ore., with his son Brad and Brad's wife Cheryl by his side. He was born in David City, Neb., on May 16, 1918, to Charles and Wilma (Burgess) Vanek. Family would like to thank Hospice and Hearts of Gold for their compassion and care.
As a young boy of 12, Chuck and his family (parents and younger sister, Betty) moved to Oregon to seek work. It was 1930 and the Great Depression was in full force. They arrived in Hood River on July 6, 1930. Housing was found on the Annala Fruit Ranch in Odell.
His parents worked in the orchards and packing plants until his dad was later employed at the Bonneville Dam. Chuck picked strawberries and weeded corn by hand. Later, when he was older, he picked apples, pears and thinned the orchards.
After graduating from Odell High School in 1935 his parents moved to Stevenson, Wash., to be closer to his father's work at Bonneville Dam. Not wanting to move, Chuck stayed in Odell with his aunt and uncle and found work with Apple Growers Association (now Diamond Fruit).
In the meantime, World War II had been in progress since 1941 and in March of 1942 Chuck entered the service. After basic training he was sent to Santa Ana, Calif., to a new army air force base, where future pilots took their basic flight training. It was here that Chuck learned and became an instructor of Morse code.
After the war ended in 1945 the base was closed and Chuck shuffled around the country and then received his honorable discharge on Dec. 19, 1945, as a staff sergeant.
In 1946 he went to work for Diamond Fruit; in 1947 he became plant manager for the Oak Grove Packing House and Van Horn Packing House as well as being a field man for many orchardists in the valley. He retired in 1982.
Chuck enjoyed playing sports, playing for the Joe Young softball team, the Odell townies basketball team and the West Side Fire Department bowling team.
In 1946 he married Bebe Brown from which two children were born: Christy and Brad. Their marriage ended in divorce in 1963. In 1966 he and Alma Herman (who he dearly loved) were united in marriage. Alma had two children, Sharon and Chris, whose father, Jay Herman, passed away in 1963.
Chuck served as president of the Oak Grove-Barrett Teachers Association and was a member of the Barrett School Board. He was a volunteer member of the West Side Fire Department for 15 years, a member of the American Legion since 1946 and the Elks Lodge since 1963.
After retirement he and Alma started enjoying many trips in their motor home. They wintered a few years in Yuma, Ariz., and Sam's Family Spa in Desert Hot Springs, Calif. Other trips they enjoyed included visiting relatives in Missouri, several trips to Canada and Reno, Nev. (occasionally panning for gold), and trips with to Alaska with his sister and brother-in-law.
Chuck is survived by his son, Brad Vanek, and daughter-in-law, Cheryl, of Rainier, Ore.; stepchildren Sharon Herman-Ingram and her husband, Ken, of Hood River, and Chris Herman and his wife, Glenda, of Hood River; grandchildren Christine, John, Stephy, Rochelle, Shawna and Jay; great-grandson Dallas Vanek; and son-in-law, Phil Britt of Amity, Ore.
He was preceded in death by his wife, Alma, in 2008, who left a lonely spot in his heart; his parents; sister, Betty; daughter, Christy; and two grandsons, Todd and Joe.
A service will be held for Chuck at 10:30 a.m. Saturday, April 21, at Anderson's Tribute Center (Funerals, Receptions, Cremations), 1401 Belmont Ave., Hood River, OR 97031; 541-386-1000. Please visit www.andersonstributecenter.com to leave a note of condolence for family.
Condolences are being received online.
Services Location
Anderson's Tribute Center
1401 Belmont Ave. Hood River, OR 97031
541-386-1000
Fax 541-386-7380