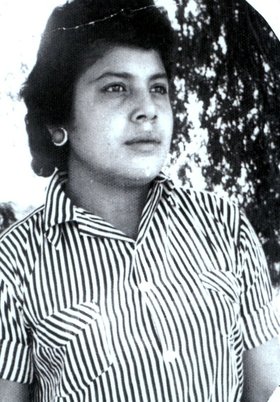 Albertina "Tita" Quintanilla
June 6, 1939 - July 26, 2012
Albertina "Tita" Quintanilla, 73, of Hood River, Ore., and Cardenas San Luis Potosi, Mexico, passed away on July 26, 2012, at home with family by her side. Albertina was born on June 6, 1939, in Cardenas San Luis Potosi, Mexico, to Nicolas Garcia and Marcelina Martinez de Garcia.
Albertina married Guadalupe Quintanilla on June 3, 1962, in Cardenas San Luis Potosi, Mexico, and together they raised three rambunctious children. Albertina lived in Cardenas, San Luis Potosi, Los Angeles, Calif., and Hood River, Ore.
She worked for 27 years in the fruit industry for local packing houses and retired in 2001. After retirement, she became a "snowbird" and spent winters in her home in Mexico, and summers with her family in Hood River.
During her life she enjoyed cooking and was famous for her "gorditas" as it was common for her to make 40 to 50 at a time to make sure family and friends could enjoy them fully. She also enjoyed gardening and caring for plants and trees she and Guadalupe had planted together.
Albertina enjoyed playing board games and was known as the "No Te Enojes" champion, her version of the popular game "Sorry." Her grandchildren seldom were able to beat her and it was not uncommon for her to visit friends and show up with her board to play the game at their home as she needed new challengers.
Albertina was baptized as one of Jehovah's Witnesses on Dec. 20, 1969, and remained an active minister until the time of her death. She enjoyed sharing with others the promises of God's Kingdom that are found in the Bible. She will be remembered for her faithfulness in always being present for congregation meetings and regularly sharing in the door to door ministry. Her example in faithfulness was truly a gift for her family and friends.
Albertina is survived by her son Eugenio "Pepe" (and his wife, Nancy); daughter, Ludivina "Ludy," son Ismael "Ish" (and his wife, Macy). She initially requested 18 grandchildren but eventually concluded she was content with seven of them as they all became dear to her. She is survived by all seven grandchildren: Mychal, Jonatan, Edmundo, Jordan, Jacob, Nicholas and Nora.
Surviving her are her brothers Eugenio, Enrique, and Raul, and also her sisters and close companions Maria de Jesus "Chuy," Antonia "Toña,", Noelia "Nela" and Oralia "Lalo."
She is also survived by many nieces and nephews of whom she was very fond of and those whom she considered her "spiritual family."
She was preceded in death by her parents, Nicolas and Marcelina, husband, Guadalupe, and sister Guadalupe.
A memorial service is planned for 1:30 p.m. Saturday, Aug. 4, at Jehovah's Witnesses Kingdom Hall, 1619 Tucker Road, Hood River.
Arrangements are under the direction of Anderson's Tribute Center (Funerals, Receptions, Cremations), 1401 Belmont Ave., Hood River, Or 97031; 541-386-1000.
Please visit www.andersonstributecenter.com to leave a note of condolence for family.
Condolences are being received online.
Services Location
Anderson's Tribute Center
1401 Belmont Ave. Hood River, OR 97031
541-386-1000
Fax 541-386-7380