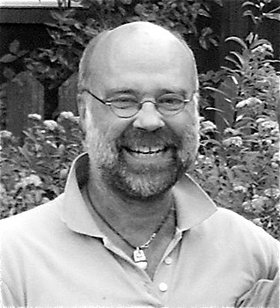 Robert Lee Reuter
October 15, 1953 - July 28, 2012
Robert Lee Reuter, 58, passed away at his Snowden retreat in White Salmon, Wash., July 28, 2012. He was born in Champagne-Urbana, Ill., on Oct. 15, 1953, to Beverly (Ferney) and Edward Reuter.
On Oct. 16, 2004, Bob married Kalama Taylor in Portland, Ore. Bob worked as a hospice nurse for Providence Hospice of the Gorge in the Mid-Columbia area. He was a Mevlevi Sheikh, part of the Gangaji Satsang and Hub of the Heartland Community, where he was a mediator as well as a humorist.
Besides laughter and zestful living, Bob enjoyed telemark skiing, biking, sailing, kayaking and building his own cabin.
He is survived by his son, Mckenzie Reuter, of Missoula, Mont.; wife, Kalama Reuter, of White Salmon; and his parents and four brothers, all of Eugene, Ore.
All are welcome to attend the celebration of Bob's life at 1:30 p.m. on Sunday, Sept. 2, at Bethel United Congregational Church in White Salmon. Any donations may be sent to Providence Hospice of the Gorge.
Arrangements are under the direction of Gardner Funeral home, 509-493-1323.