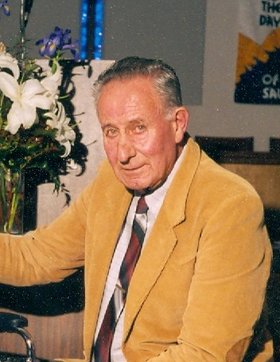 John McCormick James
July 10, 1929 - August 8, 2012
John McCormick James, of Hood River, Ore., passed away peacefully at the Mid-Columbia Medical Center in The Dalles, Ore., on Aug. 8, 2012. He was born July 10, 1929, in Rural Retreat, Va., to David C. and Elva (McCormick) James. Due to failing health, John had resided at the Oregon Veterans Home in The Dalles for the past 10 months.
John's father passed away in December of 1929 and he was raised by his mother and stepfather, James Sexton. The family lived in Vale, Ore., where as a young man he tended many a sheep heard and loved eating mutton with lots of fat.
He said using the grease off his mutton in his pancakes, which he called "grease cakes," saved him from having to grease his frying pan.
He grew up around horses and was quite the bucking bronc rider in his day. John continued his love of horses throughout his life and was a farrier (horse shoer) for most of his adult life.
John served proudly in the U.S. Army and became a sergeant in the Korean War. He was discharged honorably and because of shell shock, he was a disabled veteran. John spoke proudly of his service.
John had been married three times before he found "the best woman in the world," as he would say, that being Velma I. Lauritsen.
They were married in Stevenson, Wash., on June 9, 1980. In their early years of marriage they liked to travel to Reno, Nev.; they also liked to spend time in Lincoln City on the Oregon Coast.
John was a loving husband, father and grandfather. He will be dearly missed by his family and many friends. We will miss his stories told many cups of coffee.
John was preceded in death by his parents and two stepsons, Morris and Lance Lauritsen. He leaves behind his wife of 32 years, Velma James, of Hood River, Ore.; stepdaughter, Renee Vickers; stepson, Kerry Lauritsen and his wife, Cindy Lauritsen; his daughter-in-law, Becky Lauritsen; many grandchildren; great-grandchildren; numerous cousins and other distant family.
A memorial service is pending and will be held at a later date.
Arrangements were under the direction of Anderson's Tribute Center (Funerals, Receptions, Cremations), 1401 Belmont Ave., Hood River OR 97031; 541-386-1000.
Please visit www.andersonstributecenter.com to leave a note of condolence for family.
Condolences are being received online.
Services Location
Anderson's Tribute Center
1401 Belmont Ave. Hood River, OR 97031
541-386-1000
Fax 541-386-7380