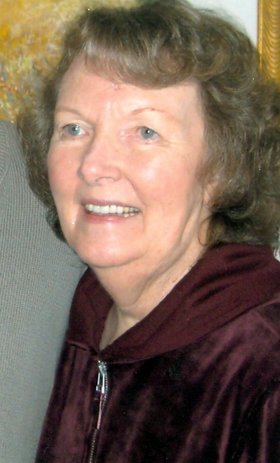 Joyce Paulson
June 6, 1928 - August 3, 2012
Joyce Paulson, 84, a Hood River, Ore., resident, died Aug. 3, 2012, at Hood River Care Center.
A memorial and celebration of life service will be held at Asbury United Methodist Church, 616 State St., Hood River, at a later time.
Joyce was born June 6, 1928, in Muskegon, Mich., to David and Edith (Nordstrom) Etterman. She grew up and attended schools in Muskegon. She worked at her family's grocery store until she went off to college at Bob Jones University.
It was during her junior year she met the love of her life, Don Paulson, at the Maranatha Bible Conference in Muskegon and they were married in Muskegon on May 8, 1949. Over their married life they resided in Michigan, Florida, North Carolina, South Carolina and Washington, D.C., before moving to Hood River to live with family in 2001.
While living in Lake Wales, Fla., Joyce and Don owned and operated a motel and children's clothing store. She was active in the Chamber of Commerce and the Garden Club.
Later in her working career, she was privileged to serve as the secretary to the Sr. Pastors of the First Baptist Church in Charleston, S.C., and the Baptist Church of Beaufort, S.C. Perhaps her favorite job was as the secretary to the Chaplain Corp at the Naval Air Station Jacksonville, Fla.
She and Don were two of the founding members of the Florida Baptist Conference of the Baptist General Conference and were active with them for over 45 years. When they retired in 1983, she and Don began to start another Baptist General Conference church in Lakeland, Fla.
Joyce enjoyed a strong faith and had a special love for children and for introducing them to the gospel. She was active in Child Evangelism Fellowship while living in Florida and conducted many Good News Clubs in her homes and in the homes of others. She was responsible for introducing many children to the love of Jesus.
Joyce took up painting in retirement and found a natural talent, producing dozens of beautiful acrylic paintings for family and friends. She loved to give them as gifts and those who were recipients were blessed by her work. She was particularly proud of the paintings she did for Dr. Pendleton and she was touched when he hung her work in his office.
Joyce was a member of Asbury United Methodist Church and participated in their Happy Hands women's group until it became too difficult for her to attend.
Joyce loved her church family and always had a sweet smile and disposition toward all she met.
She is survived by her son, David, and daughter-in-law, Elizabeth Paulson, of Hood River; daughter, Eileen Pait, of Indianapolis, Ind.; granddaughter Nikkita Paulson, of Hood River; grandson Adam Pait, of Silver Spring, Md.; and her sister, Norma, of Muskegon, Mich.
She was preceded in death by her parents, her husband, Don, and her two brothers, Carl and Earl Etterman.
Interment will be at Florida National Cemetery in Bushnell, Fla.
Memorial contributions may be made to Asbury United Methodist Church or to the FISH food bank project to build a new facility in Hood River in care of Anderson's Tribute Center.
Arrangements were under the direction of Anderson's Tribute Center (Funerals, Receptions, Cremations), 1401 Belmont Ave., Hood River OR 97031; 541-386-1000.
Please visit www.andersonstributecenter.com to leave a note of condolence for family.
Condolences are being received online.
Services Location
Anderson's Tribute Center
1401 Belmont Ave. Hood River, OR 97031
541-386-1000
Fax 541-386-7380