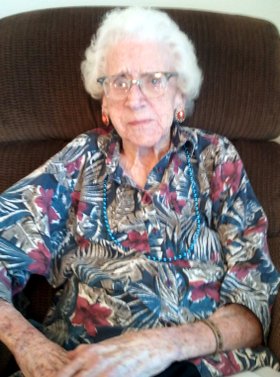 Helen June Mahurin
June 8, 1911 - August 7, 2012
Helen June Mahurin passed away Aug. 7, 2012, at the age of 101 in Hood River, Ore. Helen was born in Kendrick, Idaho, on June 8, 1911, to Herbert and Media (Bailey) Slocum.
While in high school, Helen worked in Spokane, Wash., doing housework; she also worked at Liberty Lake, Wash., during the summer doing child care and at the Coeur d'Alene Hotel. She graduated from high school in 1930.
Helen married Louis Clark Mahurin in 1937 and they lived in Lewiston, Idaho, for many years; Louis passed away in 1965. She worked at a local dress shop — Hollywood Shoppe — and was an active member of the Lewiston community. She moved to Hood River only a few years ago to be near family.
Helen is survived by her son, Doug (Glenna) Mahurin, of Parkdale, Ore., and her grandson, Mike (and Meredith) Mahurin, of Portland, Ore.; granddaughter, Michelle Opoien, of Scottsdale, Ariz.; and twin great-granddaughters Lainey and Brynley.
She was preceded in death by her parents, her husband, Louis, and sisters Joyce and Jean.
Graveside services at Lewis Clark Memorial Gardens Cemetery in Lewiston, Idaho, will be held at a later date.
Memorials are encouraged to be made in Helen's name to the FISH food bank building fund, in care of Anderson's Tribute Center (Funerals, Receptions, Cremations,) 1401 Belmont Ave., Hood River, OR 97031; 541-386-1000. Please visit www.andersonstributecenter.com to leave a note of condolence for family.