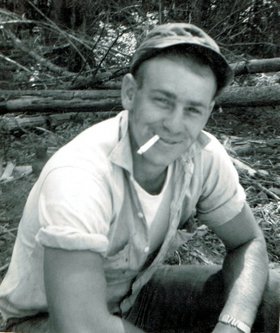 Daniel Raymond Lavoie
November 22, 1939 - August 16, 2012
Daniel Raymond Lavoie, 72, a resident of Dufur, Ore., died Thursday, Aug. 16, 2012, at a local hospital.
Daniel was born Nov. 22, 1939, in Petaluma, Calif., the youngest of seven children to Gus and Hazel (Airsmith) Lavoie. He came to Hood River, Ore., at age 2, where he was raised and educated.
Daniel served in the U.S. Navy from 1957 to 1960. On Oct. 9, 1962, he and Loretta Whitecotton were married. Daniel had worked in orchards, construction, as a log truck driver and as a truck driver with the construction of the Alaska Pipeline for 10 years. He enjoyed woodworking, fishing and hunting.
He is survived by his wife, Loretta, of Dufur, Ore.; two sons, Randy Lavoie, of Dufur, and David Lavoie, of Colville, Wash.; brother and sister-in-law Al and Sue Lavoie; and a sister, Leda Prinzing.
Private cremation held at Win-Quatt Crematory in The Dalles with Spencer, Libby and Powell Funeral Home in care of arrangements.