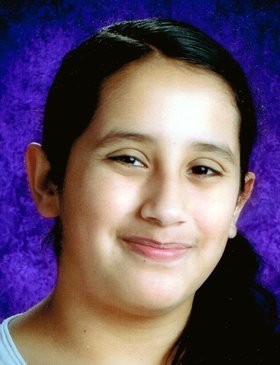 Fanney Garcia Alejo
July 21, 2000 - August 18, 2012
Fanney Garcia Alejo, 12, a resident of The Dalles, Ore., died on Saturday, Aug. 18, 2012. She was born in Hood River, Ore., on July 21, 2000, to Ricardo Garcia and Rosina Alejo. She attended school at May Street School in Hood River and The Dalles Middle School where she completed the sixth grade.
Fanney was an Oregon State Beavers fan, enjoyed riding her bicycle, was very talkative and friendly and wanted to be a cop when she grew up.
She is survived by her mother, Rosina Alejo, of The Dalles; her father, Ricardo Garcia, of Mexico; and two sisters, Belen Garcia and Aylin Garcia.
Viewing will be held on Friday, Aug. 24, from 4-6 p.m. at Spencer, Libby and Powell Funeral Home, 1100 Kelly Ave., The Dalles.
Funeral services will be held on Saturday, Aug. 25, at 10 a.m. at St. Peter's Catholic Church with Fr. Joseph Levine officiating.