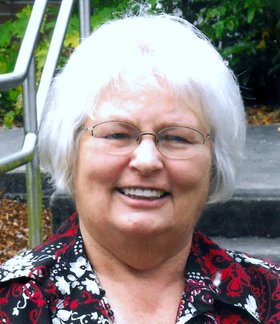 Gayle Ferguson
December 29, 1939 - August 25, 2012
Gayle Ferguson, 72, of Rigby, Idaho, passed away Saturday, Aug. 25, 2012, in the University of Utah Medical Center in Salt Lake City, from complications following surgery.
Gayle was born Dec. 29, 1939, in Bountiful, Utah, a daughter to Frank C. Paramore and Virginia Louise Porter Paramore. She attended schools in Missoula, Mont., graduating from Sentinel High School.
She served a mission for The Church of Jesus Christ of Latter-day Saints to the West Central States Mission. Following her service as a missionary she worked as a records clerk at Primary Children's Hospital in Salt Lake City, Utah.
She married Gale Roy Ferguson Oct. 27, 1961, in the Idaho Falls LDS Temple.
As an active member of the LDS Church she served as a Relief Society President, in the Primary Presidency, with the scouts, as an officiator in the Portland LDS Temple for six years and in the Idaho Falls LDS Temple for six years. She also served a mission with her husband to the Chicago Illinois Mission assigned to the Great Lakes Naval Training Center for 18 months from 1998 to 2000.
She enjoyed sewing, crafts, ceramics and scrapbooking; but most of all she enjoyed being a grandmother.
She is survived by her husband, Gale Ferguson, of Rigby; four daughters: Judy Ann (Kimball) Jordan, of Bennett, Colo., Janet Gay (Chris) Morris, of Spring Creek, Nev., Jodi Mae (Ron) Teeples, of Denver, Colo., and Jerenda Joy (Peter) Huang, of Redmond, Wash.; a daughter-in-law, Jewels Ferguson, of Ruidoso, N.M.; two sons: Jon Huston (Beth) Ferguson, of Redmond, Wash., and Paul Edwin (Nora) Ferguson, of The Dalles, Ore.; a sister, Gwen (Jim) Homer, of Ford, Wash.; two brothers: Harold Paramore, of Coeur d'Alene, Idaho, and Randy (Syd) Paramore, of Missoula, Mont.; 35 grandchildren and one great-grandchild.
She was preceded in death by her parents, one son, Roy Call Ferguson, in 2008, one sister, Jolene Reed, and a brother, Dean Paramore.
Funeral services will be held Friday, Aug. 31, at 11 a.m. in the Rigby 3rd Ward LDS Chapel at 364 N. 4100 E., Rigby, Idaho. The family will visit with friends on Friday from 9:30-10:45 a.m. prior to services at the church.
Burial will be in the Olney Cemetery in Pendleton, Ore., Saturday, Sept. 1, under the direction of Eckersell Memorial Chapel in Rigby. Condolences may be sent to the family at www.eckersellfuneralhome.com.