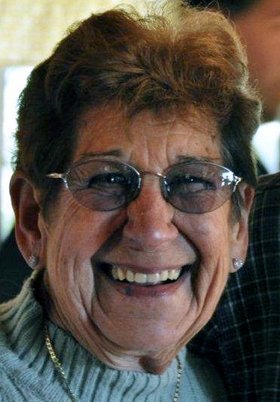 Margaret "Peggy" Madison Berthold
October 10, 1924 - December 8, 2012
Margaret (Peggy) Madison (Bays) Berthold, 88, a resident of The Dalles, Ore., died on Saturday, Dec. 8, 2012. She was born Oct. 10, 1924, in Pasadena, Calif., to Thomas and Rosamond Bays. She grew up in Lakeview, Ore., on a ranch where she helped provide meals for the ranch hands.
Peggy was an explorer from an early age; she took flying lessons in Baker, Ore. She worked in Seattle for Boeing during World War II, living with her sister Virginia (Ginny), who also worked for the war effort.
Peggy met her husband and lifelong partner, Claude L. Berthold, in San Francisco during the war and they were married by the admiral of Claude's destroyer escort (USS Concord) in 1944.
They moved to Mosier, Ore., in 1946 and purchased a garage in Mosier that became Berthold's Garage and ran their business for 25 years.
They were blessed with three children: Judy Berthold Gulman (Tom), Rodney Berthold (Tami) and Philip Berthold (Christy). Peggy did the books for the business, sold hunting and fishing licenses and pumped gas when needed.
She worked in real estate after selling the garage business and she and Claude owned Flying B Realty in The Dalles for many years. Peggy and Claude purchased a ranch outside of The Dalles in 1968 where they raised cattle, chickens and horses. Peggy was a Master Gardener.
She was an avid and successful hunter, making annual trips to the Blue Mountains for deer and elk hunting until she was 83. She was a member of many organizations as an officer and active participant of the American Legion Auxiliary, Oregon Realtors Association, Flying Farmers Association, Mosier Teacup club, Home Extension and Mosier Grange, among others.
In her later years she was very active in the local sports club water aerobics classes and Mosier Valley Seniors where she served as treasurer until her passing.
She is survived by her brother, Thomas Bays, her three children, 11 grandchildren and five great-grandchildren.
Viewing will be held on Friday, Dec. 14, from 2-5 p.m. at Spencer, Libby and Powell Funeral Home.
Funeral services will be held on Saturday, Dec. 15, at 11 a.m. at Mosier Community Church with burial to follow at Mosier Cemetery.
Anyone wishing to make a donation should send a check made out to Seniors of Mosier Valley, P.O. Box 123, Mosier, OR 97040.