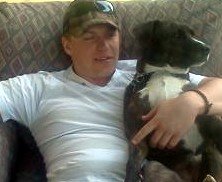 Vincent "Vinny" Seth Sonesen
December 8, 1988 - December 9, 2012
Vincent Seth Sonesen, 24, of Parkdale, Ore., passed away unexpectedly on Dec. 9, 2012. Vinny was born Dec. 8, 1988, in Worland, Wyo., to Brian Sonesen and Sherri Miller.
Vinny grew up in Greybull, Wyo., and Norway, Mich. His hobbies were football, basketball, wrestling, snowboarding, skateboarding, camping, ice hockey and riding horses with his mom. Vinny loved art, being outdoors and fishing with his grandpa.
He is survived by his father and mother; his grandparents, John (Grumpy) and Claudia Hendryx of Greybull, Wyo.; his grandmother Kay Sonesen, of Worland, Wyo.; Uncle Greg and Julie Miller of Greybull, Wyo.; Uncle Kenny and Meredith Miller of Parkdale, Ore.; Uncle Tim Sonesen and Uncle Jerry Sonesen of Worland, Wyo.; and many other loving family and friends.
He is preceded in death by his uncles James Vincent Miller and Andrew Sonesen, his grandfather Seth Andrew Sonesen, his great-grandparents Claude and Evelyn Mitchell and his great-grandmother Starret.
Private family visitation and memorial services will be held at Anderson's Tribute Center. Memorial contributions may be made to Sherri Miller, 4750 Culbertson Drive, Parkdale, OR 97041.
Condolences may be expressed to the family at www.andersonstributecenter.com or to Sherri Miller at the address above.
Arrangements are under the direction of Anderson's Tribute Center, 1401 Belmont Ave., Hood River, OR 97031; 541-386-1000.