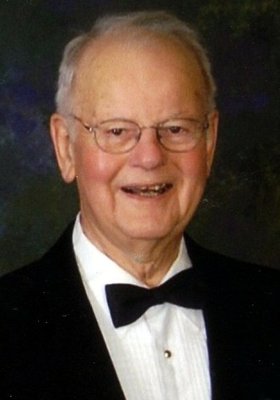 Russell "Russ" Evans Guppy
June 25, 1918 - December 9, 2012
Respected Hood River businessman and community volunteer Russ Guppy, 94, died peacefully Dec. 9, 2012, in Beaverton, Ore.
Russ lived in Hood River for 65 years. He owned and operated Russ Guppy Distributor, selling and delivering ice cream and frozen food throughout the Mid-Columbia area, for 35 years until he retired in 1983.
Russell Evans Guppy was born in Seattle, Wash., to George and Lela Guppy, on June 25, 1918. He was the youngest of five siblings, all of whom preceded him in death. Russ attended the University of Washington for a short time to study architecture. He left college to help his family during the Depression.
Russ met Ruth McClain when they both worked at O'Connor Moffitt department store in Seattle, where he was in sales and she was a copywriter. They were married June 20, 1942, in San Diego, Calif., where Russ was stationed with the Navy.
Russ and Ruth had been married 60 years when she passed away in 2002.
Russ is survived by his family: son, Colonel (retired) Christopher Guppy (Carolyn); daughter, Dr. Macy Guppy; four grandchildren: Dr. Carie Allred (Duncan), Jason Guppy (Dina), Christina Amos (James), and Malea Guppy; and great-grandson Lincoln Guppy — who mourn his passing.
Throughout much of his adult life, Russ was an active member of several area clubs and organizations including the Elks Club, the Rotary Club and The Dalles Golf Club. He was an avid golfer and excellent billiard player. After retirement, he became an accomplished woodworker and donated a number of his original pieces to community causes.
His strongest community tie was with Riverside Community Church, where he had been a member since 1948. Russ served in a variety of volunteer positions including trustee, chairman of the board of trustees and youth group leader. He sang in the choir for 60 years.
Russ's family, many good friends and the Hood River community will greatly miss him. His life will be celebrated at a memorial service Jan. 5, 1 p.m., at Riverside Church, 317 State St., in Hood River.
In lieu of flowers, the family requests donations in his honor to the Memorial Fund at Riverside Community United Church of Christ (P.O. Box 656, Hood River, OR 97031) or The Wounded Warrior Project (P.O. Box 758517, Topeka, KS 66675).
Arrangements are under the direction of Anderson's Tribute Center (Funerals, Receptions, Cremations), 1401 Belmont Ave., Hood River, OR 97031; 541-386-1000. Please visit www.andersonstributecenter.com to leave a note of condolence for family.

Condolences are being received online.