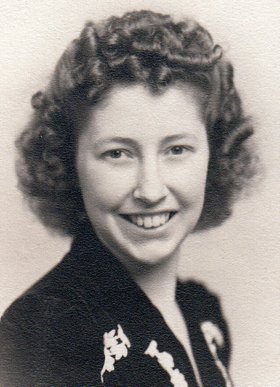 Vernita Crystal Hawks
June 8, 1922 - December 14, 2012
Vernita Crystal Hawks, 90, of Lebanon, Ore., went home to be with her Lord and Savior Jesus Christ on Friday, Dec. 14, 2012, at Avamere Rehabilitation of Lebanon. She was born June 8, 1922, to Lloyd and Mabel Henson on a small farm in Lacomb, Ore.
Her family later moved to Lebanon, where Vernita attended Lebanon High School.
Vernita had special memories during her years in Lacomb: swimming in Crabtree Creek, picking strawberries and sitting on a gate in the evening to watch the sunset. She loved to work with her dad when in his later years he would fall trees in the woods on their farm.
She accepted Jesus Christ as her Savior at the age of 13 at a Bible study for teens one Saturday evening, and she was baptized in Crabtree Creek.
On Feb. 21, 1942, Vernita married Lorne D. Galloway of Beaverton, Ore., at her parents' home in Lebanon. She first met him while she was attending Lacomb Baptist Church where she was also secretary.
Following Lorne's years in the Navy, they resided in Corvallis while Lorne studied engineering at Oregon State University. During that time their first daughter, Kathy, was born in 1946 followed by the birth of their second daughter, Anne Marie, in 1948.
They bought their first house in 1950 in Milwaukie, Ore., where they remained until 1964.
They attended Milwaukie Church of Christ where Vernita played the organ. She loved planting flowers and a big garden.
Lorne and Vernita were transferred to Burns, Ore., in 1964. She referred to Burns as "Lorne's town." She continued to play the organ at the Baptist Church.
They were again transferred to Hood River in 1967 where Lorne worked for the telephone company. She continued to play the organ for the Baptist Church there. Lorne and Vernita had five years there together. She remained following Lorne's death in 1972. She was able to work at the telephone company for the next 12 years.
To be near family, she moved to Moscow, Idaho, in 1989. She made friends wherever she lived and enjoyed their times together.
While attending Emmanuel Baptist Church, she met Hollis Hawks. They were married later on July 6, 1996. They had both been raised on a farm, so in their eight years together, they enjoyed sharing stories of their childhood.
Vernita moved back home to Oregon in 2007 and has resided there since that time. She especially enjoyed her stay at the Villas of Albany and made special friends there.
She has loved and served the Lord throughout her life, and played the organ for church for 28 years. She also loved and served her family well and was an active part of their lives. Vernita made many lifelong friends.
She is preceded in death by her husband Lorne, in 1972, and her husband Hollis, in 2004.
She is survived by her daughter Kathy and son-in-law Randy, of Clarkston, Wash., and by her daughter Anne, of Albany, Ore. She leaves her grandchildren Matthew Sutton and his wife, Marianna, Michael Scholz and his wife, Bernadetta, and Lisa Herron and her husband, Derek; and great-grandchildren Desiree, Devery, Bryanna, Layla, Elijah, Karla, Perla and Stephanie.
Viewing was held Dec. 17 at Huston-Jost Funeral Home in Lebanon. A funeral service was held Dec. 18 at the Lacomb Baptist Church.
Memorial contributions may be made to the Lacomb Baptist Church Building Fund, in care of Huston-Jost Funeral Home, 86 W. Grant St., Lebanon, OR 97355.