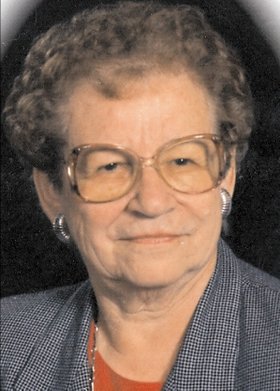 Gertrude Helen Porterfield
August 26, 1918 - December 16, 2012
Gertrude Helen Porterfield, 94, longtime Hood River, Ore., resident, passed away peacefully on Monday, Dec. 16, 2012, in a Portland area foster care home. She was born Aug. 26, 1918, in Salem, Ore., to Joseph and Ruby (Hill) Scharf.
Gertrude entered the Army in September 1944. She was a WFC World War II. She was stationed in Australia, New Guinea, Leyte Gulf and Manila Philippines, and stationed in the United States. She was honorably discharged as sergeant after duty in the South Pacific.
Gertrude married Leonard Porterfield in 1946, in Parkdale, Ore. She was raised and schooled in Salem, receiving her Bachelor of Science degree from Western Oregon University in Monmouth, Ore. She then earned her master's degree in elementary education from Lewis and Clark University, Portland, Ore.
Gertrude was a very dedicated school teacher, and taught school for 30-plus years, mostly in the Parkdale community.
She was a longtime member of Delta Kappa Gamma and helped with Mothers and Daughters program, and she held various offices in that organization.
Gertrude was a member and elder in the Upper Hood River Valley United Church and Hood River Valley Christian Church. She enjoyed being very involved with her church; she served in a number of positions on the board committees. She enjoyed teaching Sunday school for the young people for 50-plus years.
She served on the Ecumenical Ministries Board and was named church person of the year. She served as a chairperson of the local American Red Cross board and served for a few years.
Gertrude, being a pillar in our community, enjoyed helping and healing the Hood River community Christmas food basket program which she was a part of, until her health begin to decline. She served as a volunteer for the Adult and Family Services, mostly as a driver transporting people to doctor appointments and other needs.
Gertrude was a devoted wife and mother in raising her two children, Terry and Marla. She enjoyed being involved with her children's activities, especially as a Blue Bird leader and for the Cub Scouts.
Gertrude lived her last five years comfortably at Blue Sky Foster Care in Portland, Ore. Family wishes to send a special thank you to the wonderful care she received from Elain and Mike Maxim.
Survivors include her loving husband, Leonard Porterfield; a daughter, Marla Bellis; and grandson, Tyler Bellis.
She was preceded in death by her son, Kerry Porterfield.
Her funeral service with military honors was held at 11 a.m. Friday, Dec. 21, in the Hood River Valley Christian Church, with Rev. David Presley officiating. Interment was held at the Upper Valley Cemetery.
Arrangements are under the direction of Anderson's Tribute Center (Funerals, Receptions, Cremations), 1401 Belmont Ave., Hood River, OR 97031; 541-386-1000. Please visit www.andersonstributecenter.com to leave a note of condolence for the family.

Condolences are being received online.