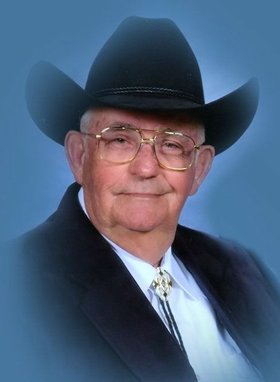 James "Jim" W. DeRoest
June 26, 1936 - December 24, 2012

James "Jim" W. DeRoest 76, a resident of Goodrich Creek Road near Baker City, Ore., died Dec. 24, 2012, at his home.
Recitation of the Rosary will be said Friday, Dec. 28, at 9:30 a.m. in St. Francis de Sales Cathedral. Mass of Christian burial will be held Friday, Dec. 28, at 10 a.m. in the cathedral. Rev. Julian Cassar will celebrate the Mass. Inurnment will follow at Mt. Hope Cemetery.
Jim, a husband, father, brother, uncle, grandfather, great-grandfather, farmer, musician, golfer and friend, was born in Baker City on June 26, 1936, to parents Mary and Maurice DeRoest. He, with brothers Maury and Gary, grew up on the family farm located near Goodrich Creek. He attended high school at Saint Francis Academy where he loved playing sports, especially basketball.
After completing high school, Jim married the love of his life, Clara May Adams. In 1955, the two started their life together in a small home in Baker, where Jim worked as a grocery clerk for Safeway. Always a hard worker, and after moves to Enterprise and Pendleton, Jim moved up to manage his first Safeway store back in Enterprise.
During this time he and Clara were blessed with four children: Jim Jr., Debbie, Chris and Billy. His son Billy passed away in 1973 from leukemia.
After retiring from Safeway, in 1993 Jim and his wife Clara moved back to Baker City, where he began the real passion of his life, working the family farm. Like his father before him, he farmed the old-fashioned way, irrigating with a shovel and haying by hand. Haying was a yearly event he enjoyed and fretted over most with the help and support of his family and friends.
Jim always loved working with people and was an active member of community and church groups. He was a member of the Chamber of Commerce, the Elks Club and Pendleton's Main Street Cowboys. He and Clara regularly led and performed music at St. Anthony's Catholic Church in North Powder and St. Francis Catholic church in Baker City.
We will always remember the smiles, laughter and life of Jim DeRoest.
Jim is survived by wife Clara, of Baker City, Ore.; son Jim and his wife, Meleece, of Bothell, Wash.; daughter Debbie Jameson and her husband, Chuck, of Umapine, Ore.; daughter Chris and her partner, Denyse, of Stayton, Ore.; brother Gary and his wife, Della, of Gold Beach, Ore.; sister-in-law Blanche DeRoest, of Portland, Ore.; five grandchildren, four great-grandchildren and numerous nieces, nephews and grand-dogs.
Those wishing to make memorial contributions in Jim's memory may direct them to St. Francis Food Bank; this maybe done through the Coles Tribute Center, 1950 Place St., Baker City, OR 97814.