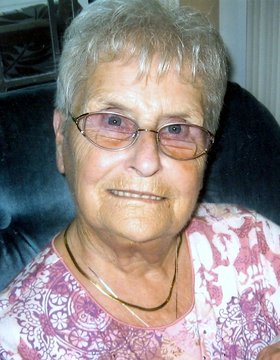 Joyce Frazier
May 23, 1933 - December 21, 2012
Joyce Frazier went to live with the Lord while surrounded by her loving family on Dec. 21, 2012. She was born in Umatilla, Ore., on May 23, 1933, to Ralph and Ellen Lyon.
In 1950 Joyce was the Queen of the Umatilla County Fair and the following year, Joyce Lyons married Dick Frazier in Umatilla, on July 13, 1951. Dick was in the Navy and was stationed in Vallejo, Calif., and was home on leave. They returned to live in the Navy village for four years while Dick's ship was stationed in the San Francisco Bay area.
Their two older children, Linda and Steve, were born in California, and shortly thereafter, the family moved to work on a cattle ranch on the Imnaha River. Their third child, Brenda, was born in Enterprise, Ore. Later, Dick was hired to work for Pacific Power and Light at the head of Wallowa Lake. The Fraziers moved from Joseph to Tygh Valley, and then to Parkdale in 1961 where they resided throughout their children's school years.
In 1977, they moved into Hood River proper, where they currently have their home.
Joyce worked for Diamond Fruit Company for 30 years, but her primary job was that of loving wife and mother. Joyce and Dick were avid square dancers and helped found the Wy'east Whirlers Square Dance Club. They spent many years traveling around the Northwest and Canada to square dance jamborees.
After retiring, they enjoyed traveling in their trailer and snow birding in the winter. Joyce and her family spent many years water skiing at Three Rivers in Central Oregon. They also spent many years hunting and fishing in the Snake River area of Eastern Oregon. During their grandchildren's high school athletic careers, they traveled all over Oregon to watch sporting events and were faithful spectators.
Joyce is survived by her husband, Dick, and their three children and their families.
Joyce's oldest daughter, Linda Harder, and her husband, Ron, live in Hood River. Their daughter Ronda Strong and her husband, Jeff, live in Hood River also with their two children, Bailey and Brayden. Their son Ryan and his wife, Kelsey, live in Jordan, Mont., with their two children Ryne and Rytan.
Joyce's son Steve and his wife, Cris, live in Hermiston, Ore. Their son Brian and his wife, Kara, and son Kolbi, as well as Brandon, and his wife, Janna, and daughter, Lilianna, also live in Hermiston.
Joyce's daughter Brenda Howe and her son, Mychal, live in Tualatin, Ore.
Joyce is also survived by her very close cousin Paul (Elaine) Druse.
As we wander through Joyce and Dick's home, what we see on every wall, and in every nook and cranny, are pictures of the family she loved so much. She was dearly loved and we will miss her.
Arrangements are under the direction of Anderson's Tribute Center (Funerals, Receptions, Cremations), 1401 Belmont Ave., Hood River, OR 97031; 541-386-1000. Please visit www.andersonstributecenter.com to leave a note of condolence for family.

Condolences are being received online.