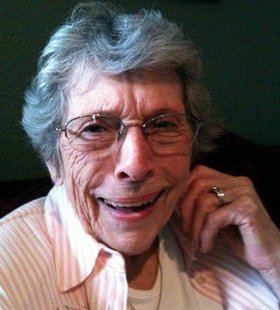 Jeanne A. Saxton
May 16, 1920 - January 27, 2012
Jeanne A. (Newman) Saxton was born May 16, 1920, in Hood River, Ore., to Carl D. and Leona M. Newman. She passed away at home in Salem, Ore., on Jan. 27, 2012, at the age of 91.
She was married to Forest L. Peters who was killed in action in Korea, 1950. She married John R. Saxton in 1953 and spent 54 years in business and adventures until his death in 2007.
Jeanne was preceded in death by a sister, Katherine; brother, Elton, and son David.
She is survived by her brother Gordon; son, Larry, five grandchildren and eight great-grandchildren.
Jeanne had a heart of gold and was a friend to many. She will be dearly missed. At her request, no service will be held.
Arrangements are under the direction of Virgil T. Golden Funeral Service, 605 Commercial St. S.E., Salem, OR 97301; 503-364-2257; www.vtgolden.com.