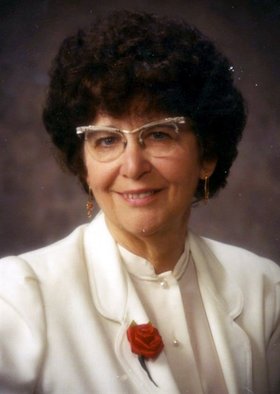 Lois Eileen Funston
July 11, 1919 - January 29, 2012
One of God's sweetest saints went to glory on Jan. 29, 2012. Lois Eileen Funston was born in a region of the Ozarks in Missouri on July 11, 1919, to Roy and Clara Harling. She was born a twin, though her sister, Leone, passed away at three months of age.
Lois was the oldest of five children in her family. She was 11 years old when her father died of Bright's disease. Not long after her dad died, the family moved to Carlyle, Kansas, where her mother secured a teaching degree and taught school for many years.
Lois helped care for three younger siblings while her mother was working and became an avid reader. She followed after her mother's occupation and became a school teacher in a one-room schoolhouse, teaching grades 1-12.
She married Walter W. Funston on Dec. 27, 1939. He was an iron worker, and they moved many times due to his occupation.
In 1953 they moved to Hood River, Ore., and fell in love with the beauty of the scenery in the Columbia River Gorge. They built a home there out by Tucker Road and Walter commuted many years to the dam sites he worked on.
Lois was very busy with the friends and clubs she joined. She enjoyed the Oregon Trail Club for many years. She loved hiking - even tackling glacier trails in Montana while Walter worked at Libby Dam. She and her husband were also avid bowlers.
Lois was a long-standing member of the Rebekah Club where she served as musician and later on as a Grand Noble. She always had a huge garden, with her own greenhouse, and had the best tomatoes around!
Though Mom suffered from Alzheimer's, family gathered in her room at Crescent Health Care Facility for a party in her honor three days before her passing. Hoping that she could enjoy them, many memories of their home and life in Hood River were shared.
The staff provided strawberry shortcake with whipped cream and coffee for which the family is very grateful. She will be missed by all.
In lieu of flowers, please donate to the Alzheimer's charity of your choice.
A graveside service will be at noon Wednesday, Feb. 1, at Mountain View Memorial Park in Hood River, Ore. Arrangements are under the care of Keith & Keith Funeral Home, 902 W. Yakima Ave., Yakima, WA 98902.