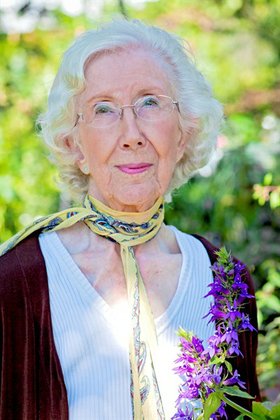 Elva Lee Bray
February 20, 1924 - February 2, 2012
Elva Lee Bray, 87, passed away peacefully at her home in Hood River, Ore., on Feb. 2, 2012, after a very courageous 14-year battle with cancer. She was born Elva Lee Edwards in Norfolk, Va., on Feb. 20, 1924, to a family of eight brothers and sisters.
Elva Lee joined the U.S. Air Force in 1945 and was stationed in El Paso, Texas, and in Germany while training to be a dental assistant. She worked as a dental assistant in Norfolk for more than 40 years.
After retiring in 2003, she moved to Hood River, Ore., to be near her family.
Elva Lee was a very involved and beloved grandmother and great-grandmother and always looked forward to playing and reading with her many young great-grandchildren. She was well known in the Hood River community for her involvement in Relay for Life every year, and was the featured speaker for the event in 2009.
Elva Lee had much love and appreciation for Dr. Menashe and all the wonderful and dedicated nurses at Providence Hood River Memorial Hospital infusion center who worked compassionately with her for years. As well as Dr. Stephen Vogt, and later home health and hospice nurses.
Elva Lee was very dedicated to her church, Asbury United Methodist Church, in Hood River. She loved using her beautiful soprano voice in the choir and could also be found every Monday morning with the women she loved at Happy Hands. She was very happy to offer her services cleaning her church along with her best friend, Don Collins, and did so up until a few months ago.
Elva Lee was a wonderful correspondent. She enjoyed staying in touch with many family members and old friends over the years, as well as taking care of the greeting card correspondence for her church. Elva Lee also took great pride in her personal appearance and will be remembered as southern belle who never lost her southern accent and charm.
She loved dancing, singing, good food (especially southern food) and participating in numerous fundraising events for charities that were important to her, including the Crop Walk every year.
Elva Lee will be deeply missed by her family and friends and will be remembered by her big, vibrant personality that was the life of any family gathering or group. She is survived by her children, Blue Ackerman of Hood River, Ore., Joseph W. Bass III, of Norfolk, Va., Elizabeth Lane, of Buena Vista, Va., and Sheldon Mullet, of Fort Meyers, Fla.; grandchildren, Chelsea Tactay, of Hood River, Jay Waitsman, of Fairfax, Va., John Stewart, of Hood River, Heather Bass, of Virginia Beach, Va., Tanah Stewart Clunies-Ross, of Salem, Ore., Andrew Waitsman, of Fairfax, Va., Michael Bass, of Virginia Beach, Patsy Bass, of Virginia Beach, Emily Ackerman Sonderegger, of Portland, Ore., and Jacob Ackerman, of Hood River; and 11 great-grandchildren.
She was preceded in death by her son Patrick Powell, her grandson Isaac Ackerman, her parents and all of her brothers and sisters.
A service to honor and celebrate her life is planned for 11 a.m. Saturday, Feb. 11, at Asbury United Methodist Church, 616 State St., Hood River.
Arrangements are under the direction of Anderson's Tribute Center (Funerals, Receptions, Cremations), 1401 Belmont Ave., Hood River, OR 97031; 541-386-1000. Please visit www.andersonstributecenter.com to leave a note of condolence for family.