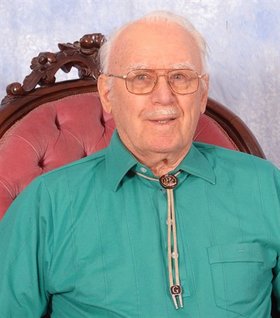 Kenneth "Ken" Harold Gardner
September 24, 1918 - January 29, 2012
Kenneth Harold Gardner was born on Sept. 24, 1918, at the Larsen family ranch house in the Snowden area, just north of the Snowden cemetery in Washington. He passed away peacefully in the company of loved ones at Hawks Ridge Assisted Living facility in Hood River, Ore., on Jan. 29, 2012, at the age of 93. His parents were Oscar Gardner and Mabel (Larsen) Gardner.
Ken Gardner was a longtime owner of the Gardner Funeral Home. It was established in 1930 by his parents, Oscar and Mabel Gardner. In 1940, their two sons, Arthur and Ken, both graduated from the College of Mortuary Science of San Francisco, and Ken became actively associated with the firm.
Ken met his wife, Juanita, known mostly as "Nita," and they married April 3, 1949. Ken and Juanita owned and operated the Gardner Funeral Home from 1955 to 1976. For a time, they also operated the ambulance service for the region.
When they retired, Ken turned to his interest in restoring and selling antiques as a second career.
He served in the South Pacific during World War II as a medic and has been an active member of the American Legion. He was also a lifetime member of the Elks Lodge.
He loved fly-fishing in his younger years and enjoyed playing golf, even as he became older. Ken will be remembered for his storytelling, replete with remarkable memories of his lifetime and regional and family history.
He was preceded in death by his brother, Arthur, and his wife, Juanita.
Survivors include his sister, Venette Duckwall; daughters Sally Gross and Lisa Flores; five grandchildren; five great-grandchildren; one great-great-grandson; and other loved family members and friends.
He will be loved and missed by all.
A Celebration of Life was held Feb. 2 at Gardner's Funeral Home in White Salmon.