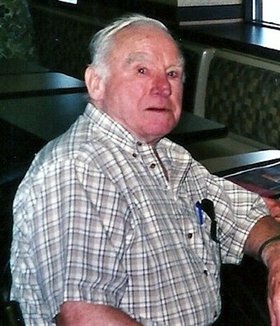 Clifford "Cliff" Alden Lester
July 11, 1915 - February 9, 2012
Clifford "Cliff" Alden Lester, 96, of Hood River, Ore., passed away quietly in his sleep Feb. 9, 2012, at his home in Odell, Ore. Cliff was born July 11, 1915, on Eastside Road in Hood River to Jesse Dixon Lester and Anna Margaret Wells Lester.
He married Lorena Alice Dikeman at Pine Grove Church in Hood River on April 14, 1940, and started an adventure together that would produce a daughter, two grandchildren, six great-grandchildren and a long life full of great memories.
Clifford lived in and around Hood River for most of his life, with the exception of a short time in The Dalles and with his daughter in Anchorage, Alaska. He spent his time on this earth in the shadow of Mount Hood. He loved Hood River and enjoyed talking about all the changes that he had witnessed around town and throughout the orchards.
Cliff went to school at Pine Grove, served in the Army, worked in fruit orchards and co-owned Lester Auto Freight and Lester Moving and Storage. He loved being a truck driver and spent a good portion of his life around the trucking profession. He enjoyed hunting, fishing and traveling but most of all he enjoyed his family; he surrounded himself with them at every opportunity.
He is survived by his grandson, Mike Sorensen, his wife Kelly and their children, Brian, Bobby, Tabitha and Tiffany, of Sweet Home, Ore.; his granddaughter, Darcy Bedortha, and her sons Cody and Kelly, of Prineville and Paulina, Ore.; and many nieces and nephews.
He was preceded in death by his wife, Rena; his daughter, Doris Marie, and an infant daughter; also by brothers Jess, Woodrow, Nick, Richard and Archie, and sisters Evelyn and Laveda.
Memorial contributions can be made to the National Multiple Sclerosis Society, American Cancer Society, Goodwill or Hospice of the Gorge.
A memorial service is planned for 11 a.m. Tuesday, Feb. 21, at Anderson's Tribute Center; celebrant speaker Bob Huskey will officiate. A reception will follow prior to interment at Pine Grove Butte Cemetery.
Arrangements are under the direction of Anderson's Tribute Center, 1401 Belmont Ave., Hood River, OR 97031; 541-386-1000. Please visit www.andersonstributecenter.com to leave a note of condolence for family.