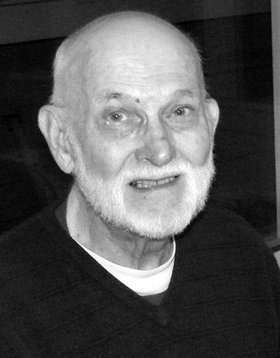 Jean Milton Fitts
October 11, 1927 - February 9, 2012
Cdr. Jean Milton Fitts, USN (Ret.), passed away on Feb. 9, 2012, in Hood River, Ore. Jean was born Oct. 11, 1927, in Wichita Falls, Texas. He was the youngest son of Albert L. and Eurice D. Fitts. He received his elementary and secondary education in the local public schools, then after graduation at age 17, enlisted in the United States Navy.
Following training at Great Lakes SSC he served in USS Franklin D. Roosevelt as a MM3 before appointment from the Fleet to the United States Naval Academy by Secretary of the Navy James V. Forrestal. He entered the U.S. Naval Academy in June 1948.
While at the Academy he made many fast and enduring friends and met his great love, Lt. Clara Mae "Dutch" Snyder, USN NC, the best Navy nurse in the service. Jean graduated from USNA on June 6, 1952, and married Dutch six days later.
Jean's naval service was long and varied from his first posting as division officer and repair officer on his old ship, the USS Roosevelt, to his last as a military advisor in Taipei, Taiwan. He retired from the Navy Feb. 28, 1977, to Austin, Texas, to pursue a degree in Latin American Studies from the University of Texas.
In retirement, Jean and Dutch took time to visit the many friends they made while in the service and to make frequent visits to their children and grandchildren. Their travels took them to Spain, Panama, Taiwan and all over the United States - gathering more friends with each stop.
He and Dutch moved to Hood River, Ore., in October 2005. Jean had an avid interest in genealogy and leaves behind the record of our loved ones gone before. Now, his name is added to that record with love and honor.
He was preceded in death by his wife, Dutch, and son Clinton.
He is survived by his son, James M. Fitts M.D., of San Antonio, Texas; daughter, Alison Fitts, of Hood River; grandson Clinton Raymond Snyder Fitts, of Amarillo, Texas; granddaughters Laila Reade Winner, of San Francisco, Calif., Helen Eliza Tishman Fitts, of Austin, Texas, and May Arden Winner Picard, of Hood River.
By his wish, his remains will be returned to Annapolis, Md., to rest with Dutch in the Naval Academy Columbarium. Arrangements are under the direction of Anderson's Tribute Center (Funerals, Receptions, Cremations), 1401 Belmont Ave., Hood River, OR 97031; 541-386-1000. Please visit www.andersonstributecenter.com to leave a note of condolence for family.