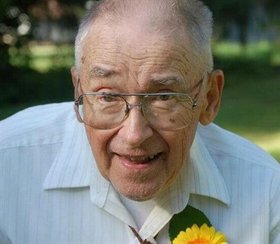 Jimme "Jim" Jerald Weseman
April 25, 1930 - February 13, 2012
Jim Weseman, 81, passed on Feb. 13, 2012, at the Providence Hospital in Portland, Ore.
Jimme Jerald Weseman was born in Archie, Mo., on April 25, 1930, to Bill and Nadine Weseman. Jim is survived by his wife, Cleo; four sons: Tony, Chuck, Mike and Trent; his daughter, Jennifer; brother Billie; sister Peggy Robinson; eight grand children and eight great-grandchildren.
Bill and Nadine moved their family to Parkdale in 1936 and resided on Clear Creek Road. Jim attended school in the upper valley and was student body president his senior year, graduating from Parkdale High School in 1948.
He enjoyed wood working, house building and selling furniture to earn spending money. He was a good athlete and was most recognized for his victories on the pitcher's mound. Jim loved sports and coached baseball for many years. He was also a 4-H leader and farmer.
Jim was a devoted husband and father. He was able to read blueprints and construct homes after earning a degree from Chicago Technical Institute. This enabled him and gave him the expertise to help build homes for his children.
Jim met Cleo when they were both in high school. Her family came to Hood River Valley from Needmore, N.C., and settled in Odell. Jim and Cleo were married on May 1, 1948, and welcomed their first child, Anthony Allan Weseman "Tony," that same year. Tony would soon have a brother, Charles Eugene "Chuck," then a sister, Jennifer Leigh "Jennifer," and one more brother, James Michael "Mike."
Many years passed; Jim and Cleo were enjoying their grandchildren when the stork appeared again. Trenton Dean "Trent" was delivered on March 10, 1975. The stork waited 20 years for the last delivery to remove Mike as being the baby of the family.
Jim worked at the Dee Store as a grocery clerk and then at Merle's Market, learning the grocery business. Merle eventually offered Jim the opportunity to purchase the store. The store name was changed to Jim's Market and the name still remains to this day. He also was part-owner in McIsaac's grocery store for a few years.
Leaving the grocery business gave Jim an opportunity to dabble in other businesses. He studied and attained his real estate license and eventually went into cherry farming. Jim loved operating his track hoe, which enabled him to clear and prepare land for planting. He was also able to spend many enjoyable hours with his sons.
There will be a 1 p.m. service for Jim on Sunday, Feb. 19, at the Parkdale Elementary School. Following the service there will be a potluck dinner at the Parkdale Fire Department. All dishes or desserts may be dropped off prior to the service at the fire department.
In lieu of flowers, donations may be made during the potluck to the Parkdale Fire Department or the Parkdale PTO to assist in purchasing new bleachers for the athletic field at the school.
Arrangements are under the direction of Anderson's Tribute Center, 1401 Belmont Ave., Hood River, OR 97031; 541-386-1000. Please visit www.andersonstributecenter.com to leave a note of condolence for family.