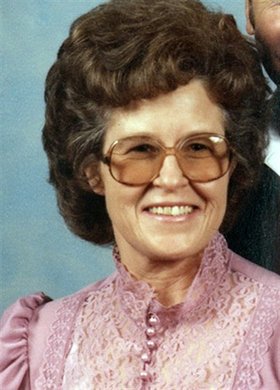 Mildred Ellen Goss
July 28, 1931 - February 17, 2012
Mildred Ellen (Short) Goss died on Friday, Feb. 17, 2012, at home surrounded by her family. She was born on July 28, 1931, to John Thomas Short and Bessie Mildred (Barbour) Short in Glenwood, Ark.
Mildred moved to Hood River with her family in 1946, where she met and married Truman Goss on April 5, 1947. They were joined by three children, James, Terry and Trudy.
As their family grew, so did Mildred's love for her children, grandchildren and great-grandchildren.
Mildred and Truman loved to travel in their motor home. Most of the pictures they took show the dashboard of the vehicle they were in!
Mildred worked for the Apple Growers Association, helped run the orchard and worked for Stadelman Fruit until retirement.
She is survived by her husband of almost 65 years, Truman; her brother, J.T. Short; son Terry Goss and his wife, Deborah, daughter-in-law Cindy Goss; daughter Trudy Klantchnek and her husband Alexander "Bucky"; grandchildren Cassandra McNerney and Jeff, James Goss II, Steven Goss and Gretchen, Travis Goss and Margret, Jeremiah Goss and Trina, Malinda Acol and Reed, Randy Klantchnek and Camie Piersall, and Megan Winn and George.
Also surviving are great-grandchildren Ashley and Eric McNerney, Cedella and Malaika Goss, Kellen Goss, Dannika and Jakoby Goss and Nate, Tara and Genesis Acol.
She was preceded in death by her parents, one sister, five brothers and her beloved son James.
There will be a memorial service at the Church of Christ on Tucker Road Saturday, Feb. 25, at 2 p.m. In lieu of flowers, please make donations in Mildred's name to Heart of Hospice in Hood River. They made it possible for Mildred to pass comfortably at home with her family.