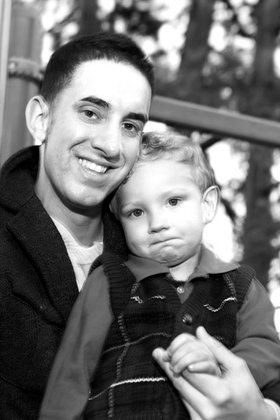 Isaac Tobias Ackerman
March 22, 1986 - January 6, 2012
Isaac Tobias Ackerman was born on March 22, 1986, at his family home in Virginia Beach, Va., to Robert and Blue Ackerman. He passed on unexpectedly Jan. 6, 2012, at the age of 25.
Isaac's family relocated to Hood River, Ore., in November of 1989. He attended May Street Elementary, Hood River Middle, and graduated Hood River Valley High School, Class of 2004.
He is survived by his fiancée, Alyssa Johnisee; son, James Ackerman; parents, Blue and Robert Ackerman; grandmother, Elva Lee Bray; sisters Chelsea Tactay, Tanah Clunies-Ross and Emily Ackerman; brothers Jacob Ackerman and John Stewart; brothers-in-law Troy Tactay, John Clunies-Ross and Ryan Sonderegger; sister-in-law Amy Cannon; nephew and nieces Jonah, Keone and Lilah Tactay, Hugo Romero-Ackerman, Coral Stewart, and Fievel Clunies-Ross; aunt, Liz Lane; uncle, Joseph Bass; and cousins Jay and Andrew Waitsmen.
Isaac, we will miss you, but we know you will always be with us in spirit. You will never leave our thoughts or our hearts. You touched so many people's lives. You will be missed as a father, son, grandson, brother, uncle, nephew, fiancee and friend. We love you!
Isaac loved sports. As a youth, he participated in the Gorge Games, where he placed second in rollerblading. He also played basketball, hockey and lacrosse. He loved snowboarding, riding his motorcycle, jet skiing and working on his cars, which he took lots of pride in keeping pristine. He was also a very good artist and a computer genius.
Isaac was enrolled in a four-year college program at Penn Foster and was excited to start his bachelor's degree in business administration with a major in health and sciences. He completed several other courses. He was very adamant and proactive about attaining all the things he wanted to do.
Isaac was an extremely charismatic person and you could tell by his constant smile. He had the deepest laugh that would fill any room.
Isaac had such a big heart. If someone were feeling down he would be the first to find any way he could to cheer that person up. If you ever needed Isaac - he was there. He put others over himself and always knew how to make everyone have a good time.
He was the kind of person who would go out of his way to give a compliment, or a gift, just to see you smile. Isaac always put family first and was very protective of the ones he loved. His enthusiasm and consideration will forever be adored.
Isaac's legacy will be carried on though his pride and joy, his son, James Robert Ackerman, born Oct. 8, 2008. James meant everything to Isaac. His favorite times were spent reading books, going on walks, drawing pictures and playing sports in the front yard.
Isaac was a proud father and always talked about how smart, athletic and funny his son is. He often expressed excitement to his friends and family about teaching James how to do new things. He leaves behind his beloved fiancee, Allysa Johnisee, whom he loved dearly.
A memorial service, open to all friends and family, will be held at Hood River Alliance Church, 2650 Montello Ave., Thursday, Jan. 12, at 11 a.m., with a potluck reception to follow with time of fellowship and sharing stories. Childcare will be available.
Donations in Isaac's memory and honoring his son, James Robert, will be accepted at Columbia State Bank.
Arrangements are under the direction of Anderson's Tribute Center (Funerals, Receptions, Cremations), 1401 Belmont Ave., Hood River, OR 97031; 541-386-1000. Please visit www.andersonstributecenter.com to leave a note of condolence for family.