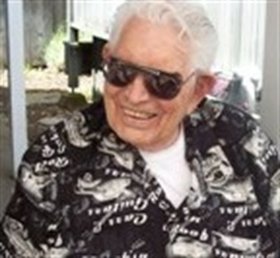 Glen Albert Beers
May 25, 1921 - January 16, 2012
Glen Albert Beers, 90, passed away Jan. 16, 2012, in his apartment at Hawks Ridge Assisted Living Community in Hood River, Ore.
A service of remembrance is planned for 11 a.m. Thursday, Jan. 26, at the River of Life Assembly on Tucker Road. Pastor Terry Abbott will officiate.
Glen was born May 25, 1921, in Hood River, Ore. When he was not quite 4 years old his mother passed away in childbirth.
He remembered she had been in bed all day and they had taken him from her room. Then a car came to take her to the hospital. He watched from the front window as the car drove off. That was the last time he saw his mother.
After Ruth died, he went back for a short time to Prineville with his dad, Dorothy and Al. He remembered his dad, Monte, sitting in the chair crying, not knowing what to do and how to care for three kids.
Shortly after Ruth died, the family moved back to Hood River and Monte bought the pool hall/gas station/tire store/grocery store/lunch counter in Odell - what is now "Clem's Market." They lived back of the store. But Monte didn't feel like he could take care of three children and run the business, too. So Dorothy, Al and Glen went to live with Ruth's mother, Grandma Miller, a retired schoolteacher, at her home on the southwest corner of Sixth and Cascade.
However, I guess three kids were a little too much for her and after Glen finished first grade, all three kids moved to Prineville to live with aunts and uncles. Then in 1930, when school was out that May, Glen had just finished the third grade and all three children moved once more, back home to Odell with their dad where they were all together again.
Glen remembered that his dad put the Cold Room in at the store right after Prohibition ended about 1934. They got special permission for Al and Glen, ages 13 and 15, to serve beer because they lived in the building.
They made enough money in the summer - maybe $2,000 a head - to get through the winter months. This was in the Depression, but they did well and in 1938 the family bought a brand new Chrysler Royal. Glen remembered, though, that they didn't live extravagantly at all and he and Al never had a new bike.
When Glen was 16, in 1937 his father was remarried to Bessie Lozier. It was at the end of his junior year, attending a dance and double dating with Teresa and her date, that he decided he was more interested in Teresa Kinzie. She was the reason he stayed in school and attended his senior year.
But he didn't finish his final year; he heard of a job in California and moved there for a few months to work. It was there he wrote letters to Teresa, which she kept and we found just about a year ago.
In September he hurried back to Hood River and on Sept. 21, 1941, he married Teresa and in September 1942 they moved to "The Mine" up the mountain from Stayton, Ore., and spent a year there. Glen worked in the mine and hauled logs and Teresa mostly fished and "learned" to make bread. In September 1943 they moved back to Odell and bought their home there in 1944.
Glen began driving truck shortly thereafter and continued driving for Harry English until he purchased that business and grew it to several trucks and drivers. They hauled lumber, heavy machinery, and later on, explosives at the height of the I-84 (then I-80N) and The Dalles Dam construction.
They were blessed with three children: Ellen, Marilyn and Russ. For recreation they loved to camp or take one-day road trips just for the scenery. They purchased a ski boat and took up waterskiing along with the kids.
Later, when they retired from the trucking business, they purchased a large apartment complex in Vancouver, Wash., and lived there for a few years, managing the apartments with JR and Betty Ogden, who had been in the trucking business with them as well.
They began traveling some at this time, but in 1977 they sold those apartments, put everything in storage and were able to travel for 10 years full-time in their RV, visiting every state in the union, including Alaska and Hawaii.
In 1985 they purchased some land alongside JR and Betty in Yuma, Ariz., where they'd been wintering for several years, and put a nice modular home next to their longtime friends and partners.
They spent from 1980 to 1999 in Yuma, enjoying their winters among friends and church members, and their summers in "Grandma Kinzie's" backyard in Odell, spending time with their grandchildren and family.
In 1999 they sold their home in Yuma and made the move to Flagstone Retirement Home in The Dalles. In 2005 they decided to move into an apartment closer to daughter and family in Hood River.
Teresa passed away in 2008 after nearly 67 years of marriage and it had been hard for Glen to go on without her. Their marriage was an example to all of their family of what a love-filled marriage should be. Glen had been living in Hawks Ridge since April 2010.
Glen will be dearly missed. He is survived by daughters Ellen Anthony, of Hood River, Marilyn Bray, of Gresham, Ore., and son Russell Beers, of Petersburg, Alaska; grandchildren Joshua Bray, Todd Wells and Shelley Cox; great-grandchildren Joel Piersall, Camie Piersall, Sophie Bray and Savannah Funderburg; great-great granddaughter Mayson Funderburg, and other distant family and many, many friends.
He was preceded in death by his wife.
Glen and Teresa were active in the River of Life Assembly in Hood River for many years. Glen's family suggests that any memorial contributions be made in his memory to the River of Life Assembly of God and may be sent in care of Anderson's.
Arrangements are under the direction of Anderson's Tribute Center (Funerals, Receptions, Cremations), 1401 Belmont Ave., Hood River, OR 97031; 541-386-1000. Please visit www.andersonstributecenter.com to leave a note of condolence for family.