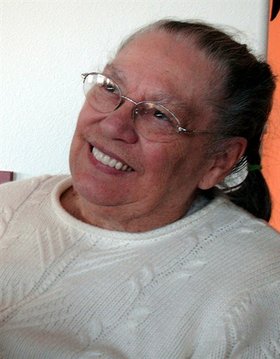 Julia Anne Zweerts-Brownfoot
August 12, 1933 - January 12, 2012
Julia Anne Zweerts-Brownfoot passed away Jan. 12, 2012, with her loving family and friends attending. She was born Aug. 12, 1933, in Luton, England, to Maurice and Margaret Brownfoot (Carruthers).
Julia's father was a commercial artist doing illustrations for Vogue and used Julia as a model. He was called into service during World War II in the British Royal Navy. As a consequence Julia spent little time in any one place and grew up in boarding schools.
Julia studied at the Royal College of Art becoming a third-generation artist in her family. One of her instructors, a Dutchman named Arnold Zweerts, became enamored of her.
Arnold, 34, and Julia, 19, were married on April 7, 1953, in Kew Gardens, Surrey, England. In June they moved to Amsterdam. In 1955 Jan was born.
They lived in a seventh-story artist garret where Julia coped with learning Dutch and cooking on a one-burner stove while keeping multi-course dinners warm under the bed linens. Julia's cooking was well-known among friends and family which induced many travel plans to her kitchen over the years.
Arnold and Julia immigrated in 1957 to Joliet, Ill. In 1958, Philip was born, and then in 1962, Judi arrived. In 1963 they moved back to Bussum, Netherlands.
In 1965 they returned to the U.S., to Downers Grove, Ill. Julia volunteered for the Arts in the Schools program, taught night school ceramics while producing vivid silkscreen prints, intricate watercolors and hand-thrown pots glazed and fired in the basement.
The entire family (five people, two dogs, art supplies, two tents, cooking gear and sleeping bags) packed into a small car and traveled to Mexico in early 1970s to further their education at the Instituto de Allende in San Miguel de Allende. This sparked profound changes in both artists' work.
The year 1975 found them moving to an old schoolhouse in Postville, Wis. There Julia enjoyed painting watercolors of rustic barns and the beautiful rolling hills.
Over the years they visited many destinations across the U.S., Mexico, Canada, Bahamas, England, Netherlands, Italy and Venice. In her younger years she loved to sail, hike, bike, camp and ice skate.
In 1985 Arnold and Julia once again packed up and moved to Corbett, Ore., where they lived for a year before finally settling in Hood River in 1986.
Wonderful artwork sprang forth from Julia in such diverse arts as precious metal jewelry, cloisonne, watercolors, paper sculpting, ceramics and mosaics. Julia was also well known for her clothing that she intricately stitched with ornate designs.
In 1993 Julia became "permanently seated" due to an aneurysm. She refused to be stopped by this setback and carried on as a well-known artist around the country, winning many awards.
Julia is survived by her children, Jan Zweerts (Rae Zweerts-Casey), of Portland, Ore., Philip Zweerts (Rachael Tadyish), of Postville Wis., and Judi Kane (Curt), of Hood River, Ore.; brother Andrew Brownfoot (Margaret), of Sicily, Italy; niece Anna Brownfoot Beeson (Tim), of Australia; grandchildren Amber Kuebli (Dan), of Monroe, Wis., Josh Penniston (Chelsea Galloway), of Belmont, Wis., Sadie Kane (Jeff Bailey), of Portland, Ore., Richard Kane, of Hood River, and Sam Zweerts, of Postville, Wis.; and great-grandchildren Deacon and Elise Kuebli and Livi Penniston.
She was preceded in death by her parents, Maurice and Margaret Brownfoot, husband Arnold Zweerts, sister-in-law Loets Zweerts, and cousin Maisie Smith.
A celebration of her life will be held at the Columbia Center for the Arts in Hood River on Feb. 19 from 1-3 p.m. Please come and bring stories or photos you wish to share.
Donations to Hospice of the Gorge are appreciated. It is with their help that Julia was able to pass peacefully at home and with dignity. Also many thanks to Providence Home Health for all the wonderful support and care.
Arrangements are under the direction of Anderson's Tribute Center; 541-386-1000. Please visit www.andersonstributecenter.com to leave a note of condolence for family.