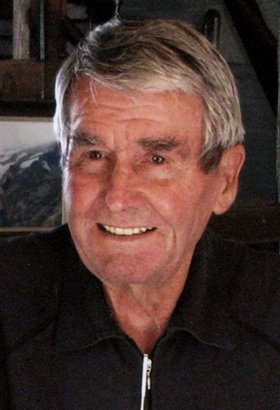 Robert "Bob" E. Janes
January 5, 1922 - January 17, 2012
Robert E. "Bob" Janes passed away with family by his side into the presence of his Lord and Savior on Jan. 17, 2012, after a short, courageous fight with cancer.
Bob was born Jan. 5, 1922, in Pendleton, Ore., and moved to Bingen, Wash., when he was 2. He went to school in Bingen and White Salmon and graduated from Columbia Union High School in 1941. It was there that he met the love of his life, Nadene DeRosear. They were married Aug. 15, 1942.
In December of that year, he was drafted into the U.S. Army and subsequently volunteered for the paratroopers division. He was a member of the famous 101st Airborne Division.
Bob parachuted into Normandy on D-Day, June 6, 1944, and again in Operation Market Garden in the Netherlands in September of that year. He also fought in the Battle of the Bulge in Belgium during the winter of 1944-45. He returned to the States later that year, moving to White Salmon where he and Nadene began raising a family.
Bob worked in the timber industry and at one time had his own saw mill. Later he worked for the U.S. Forest Service, where he was responsible for the trail systems in the Hood River district on Mount Hood and was a snow ranger at Mt. Hood Meadows.
He retired from the Forest Service in 1983 and he and Nadene pursued many outdoor activities - camping, hiking, skiing, backpacking and traveling, mostly in the Southwest.
He loved his family and spending time with his children and their families. His love of the outdoors continues on through his children and grandchildren.
Bob is survived by his wife of 69 years, Nadene; son Greg (wife Marsha); daughters Denise Doney and Gale Williams (husband Steve); four grandchildren and one great-grandson.
Services will be held at Tucker Road Baptist Church on Feb. 4 at 1 p.m., with fellowship to follow. Arrangements are under the direction of Gardner Funeral Home, 1270 N. Main, White Salmon, Wash.; 509-493-1323.