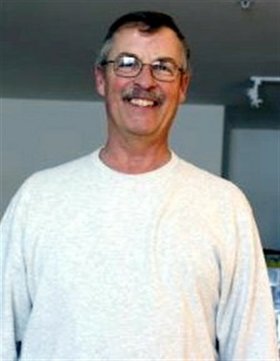 Robert Joseph Schafer
July 22, 1951 - January 12, 2012
Robert Joseph Schafer was born on July 22, 1951, in Denver, Colo., to William "Bill" and Veda (Dundas) Schafer. He was the second of three boys. He passed away on Jan. 12, 2012, at Harborview Hospital in Seattle, Wash. He was 60 years young.
Robertl grew up in Willamina, Ore., and graduated from Willamina Union High School in 1969. Through his high school years, he spent many days and hours working at his father's gas station and garage. It is there that he found his love and passion of working with his hands and building things. The smaller the pieces the more he enjoyed figuring out how something worked and went together.
He loved to fish and dabbled in hunting. Another passion of his was photography. There were very few sunsets and sunrises that he and his camera would pass up.
In high school Robert took wood shop and found a passion for working with wood. In 1977, he built a solid oak rocking cradle for his newborn daughter, Alicia. He was so proud of the fact that he had built that cradle from scratch.
Robert started working at North Electric installing telecommunications equipment around 1969. During this time he did get to travel around the Midwest and Northwest quite a lot. He really enjoyed that aspect of his job. He spent a short amount of time at a Salem paper mill.
On March 19, 1977, Robert and Linda welcomed their first daughter, Alicia.
During 1977-1984 the family lived in Salem, where he worked for United Telephone out of the Sheridan office. In 1984, he moved his family to Hood River and continued working for United Telephone/Sprint in the NOC Center.
On Oct. 18, 1984, Robert and Linda welcomed their second daughter, Shannon. In November 1995 Robert and Linda divorced, but remained close friends.
In 1997, he and daughter Shannon moved to Seattle for six short months. His job with Sprint was subcontracted with Microsoft in Seattle. In 1998, he and Shannon moved to Vancouver, Wash. At this time he went to work for GST/Time Warner.
While working at GST/Time Warner he met his BFF and significant other, Ann McEachern. He remained in Vancouver until 2008 when he relocated to Benton City, Wash., to work for Embarq/CenturyLink at its Sunnyside office.
Robert was a wonderful and generous person who always had a great outlook on life. He was a jokester and prankster and he will be deeply missed.
He was preceded in death by his parents; his younger brother, Clifford Schafer; and his ex-wife and friend, Linda Renee Ramsey Schafer.
He is survived by his daughter and son-in-law, Alicia and Aaron Rivers; daughter Shannon Schafer; grandchildren Devyn, Madison, Olivia and Ethan; brother and sister-in-law, James and Patricia Schafer; his "BFF" and significant other, Ann McEachern; and numerous nieces, nephews and cousins.
A memorial service will be held at River of Life Assembly, 979 Tucker Road, Hood River, Ore., on Saturday, Jan. 28, at noon. It will be a potluck service, so please feel free to bring a favorite dish.
The family is declining flowers and asking if you would like to make a donation to the estate of Robert Schafer to help with burial and medical expenses, it would be greatly appreciated.
Arrangements are under the direction of Anderson's Tribute Center, 1401 Belmont Ave., Hood River, OR 97031; 541-386-1000. Please visit www.andersonstributecenter.com to leave a note of condolence for family.